Perhaps you're not doing a lot of business or pleasure travel right now, but you're anticipating doing so in the near future. It's always nice to be able to pack a light tech bag by choosing the best accessories, and that's where IOGEAR's Travel Pro USB-C Mini Dock ($39.95) can help out.
Design
I have reviewed about a dozen USB-C "travel docks" over the past few years, and they're all somewhat similar due to the fact that a lot of them come from obscure third-party manufacturers in China. IOGEAR's Travel Pro USB-C Mini Dock was designed in California, and it's decidedly different.
It's tiny. 1.22 x 0.31 x 2.8 inches and weighs just 1.2 ounces. To be that small it doesn't include a lot of ports that people rarely use, like Gigabit Ethernet or VGA output. It has four ports:
USB-C passthrough for charging
4K, 60Hz HDMI port
Microphone/audio out combo port
USB-A port Those four ports can do an awful lot of work. If you need to connect a MacBook or iPad Pro to an HDMI projector or monitor, you have that ability. You can charge your laptop or tablet during those long meetings, and you can either listen to music or record a meeting using an external microphone. Lastly, that lone USB-A port gives you a connection to flash and external drives, as well as USB-A based SD card readers. Featuring a space gray metal exterior, it matches perfectly with a space gray MacBook or iPad Pro.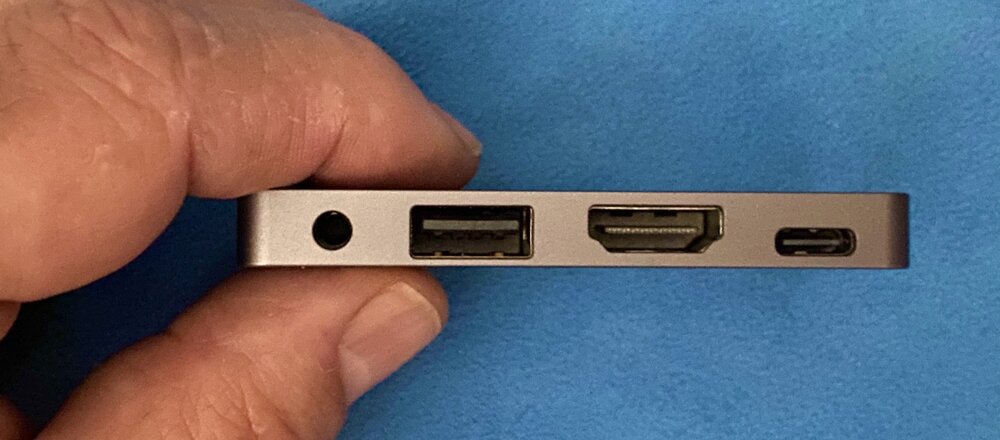 Function
If you use any sort of shell on the exterior of your device that comes within about 1.5 inches on either side of the USB-C port you want to plug into, you'll find that you won't be able to use the Travel Pro Mini Dock without a USB-C extender cable. That was the situation that I ran into, and fortunately I just happened to have such an extender cable.
Other than that "issue" — which only comes into play when you're using a shell-type case for a device — the IOGEAR Travel Pro Mini Dock works as advertised. I used it to connect my iPad Pro to an HDMI projector while monitoring sound through headphones, and it worked perfectly.
Tests with several USB flash drives and SD card readers were also successful.
Conclusion
If you want what has to be the smallest USB-C dock on the planet, the IOGEAR Travel Pro USB-C Mini Dock is what you need. It doesn't do everything in the world, has no built-in Ethernet connection or card readers, but if you just need an HDMI connector, power, sound and perhaps an external drive connection, this inexpensive and tiny dock is perfect.
Apple World Today Rating (out of 5 stars): ★★★★★