Apple's iPhone has become a key factor for global economic growth, claims the International Monetary Fund (IMF), a report by the organization that fosters "global monetary cooperation, secure financial stability, international trade, high employment, and sustainable economic growth" around the world. However, that could be changing.
Here's what the IMF says about Apple and the iPhone: 
The new tech cycle is shown as being captured by nonseasonal factors. It critically depends on the release dates of iPhones as Apple Inc. flagship models drive global demand. In fact, iPhones topped global sales in the fourth quarter of 2017, surpassing Sam- sung Electronics phones.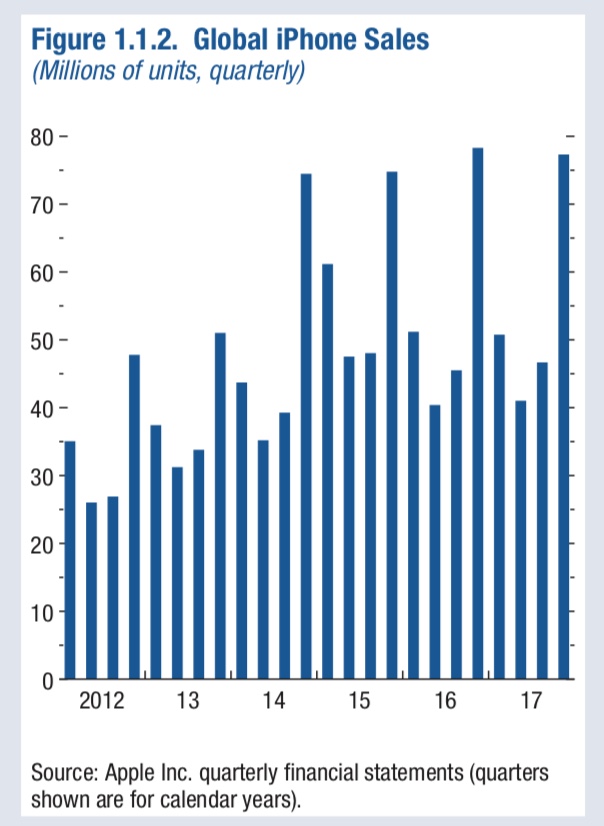 Apple Inc.'s iPhone releases are the key determinant of the new tech cycle. Reflecting booming global demand, iPhone sales surged from 35.1 million units in the first quarter of 2012 to 78.3 million in the fourth quarter of 2016). While a clear quarterly pattern is emerging—in which second- and third-quarter sales are usually weaker, reflecting the expectations of another release in the fourth quarter— the amplitude of this quarterly pattern has only really been established since the release of the iPhone 6/6 Plus in September 2014. Moreover, there are clear spillovers from the fourth quarter of the previous year onto the first quarter of the following year, ahead of the Lunar New Year in China. 
However, the IMF says that global sales of smartphones may have plateaued in late 2015. That one in five people on the planet has a smartphone in 2017 could hint at some kind of ceiling to industry growth — and that barrier could impact global gross domestic product (GDP), a monetary measure of the market value of all final goods and services produced in a period of time.
---
Like this article? Consider supporting Apple World Today with a $5 monthly Team AWT membership.