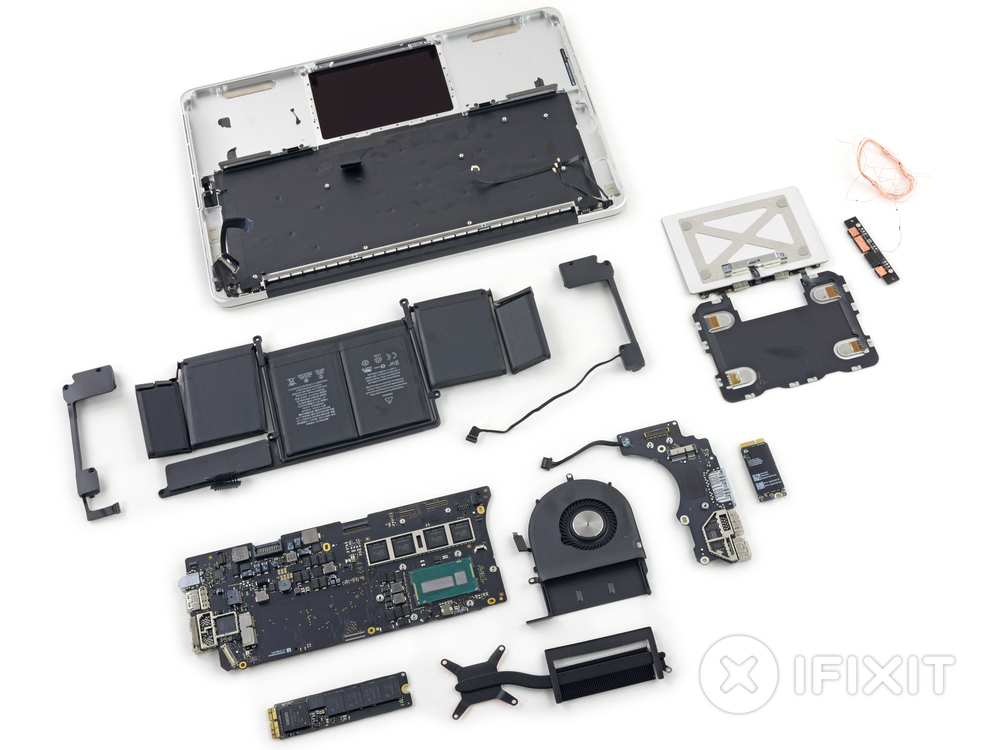 One of my favorite parts of any Apple device announcement isn't during the actual event, but afterward when the teardowns of equipment begin. Earlier in the week OWC took apart the new MacBook Airs, and yesterday iFixit performed surgery on a brand new 13-inch MacBook Pro with Retina display.
While I'll let you sneak over to the iFixit site to see all of the photos of MacBook Pro guts (and a puppy!), there are some fascinating tidbits that the forensic team discovered.
First, Apple has done away with the screws that used to hold the battery packs in place, using even more "gunky" adhesives than before.
Next, it appears that the Force Touch trackpad uses a set of four tiny strain gauges to measure pressure from your hand. In concert with the capacitive trackpad itself, this allows the MacBook Pro to know just where your fingers are on the trackpad and how much pressure is being applied. 
Third, the Taptic Engine that supplies the feedback for the trackpad — which doesn't actually move — is quite simple. It's a set of electromagnets. According to iFixit, "The magnets rapidly push and pull against a metal rail mounted beneath the trackpad, to create a tiny "buzz" of feedback with each click (and a second buzz for a "force click")."
Finally — and no big surprise here — the MacBook Pro achieved a score of 1 on the repairability scale. That score is unfortunately on a scale of 1 to 10, meaning that this isn't exactly the type of machine you'll want to pop apart for the heck of it… unless you're the type of person who can afford an Apple Watch Edition or trashing (and perhaps re-assembling) a MBP. We recommend leaving the teardowns to the pros.
Well done, iFixit!