Just in time for iOS 9, which packs new HomeKit profiles, iDevices has announced a new, advanced set of HomeKit-enabled products, which will be available at Lowe's starting Sept. 28.  The product line includes the iDevices Switch, iDevices Outdoor Switch and iDevices Thermostat.
Last year, as part of its iOS 8 SDK [software developer kit], Apple announced HomeKit, which delivers a common protocol, secure pairing and the ability to control individual or groups of devices throughout the house including integration with Siri, the company's "personal digital assistant." For example, you can tell Siri you are "going to bed" and it could dim the lights, lock your doors, close the garage door and set the thermostat.
The iDevices Switch is a HomeKit-enabled connected plug allows users to control, monitor and program electronic devices (e.g. lamps, fans, crockpots, space heaters, humidifiers, etc.) throughout their home from anywhere using Siri or the iDevices Connected app.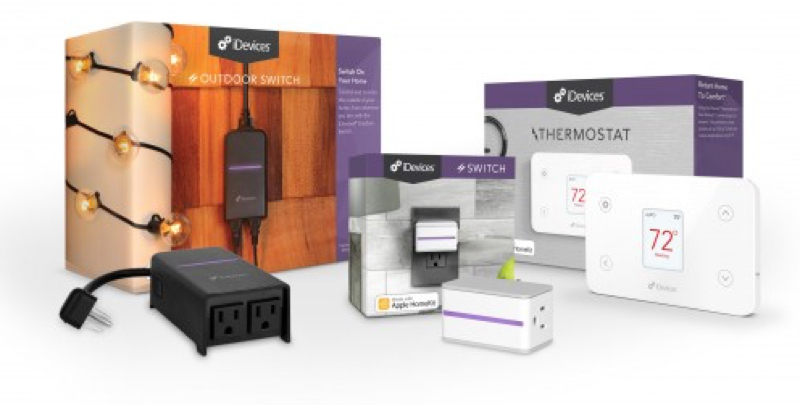 The iDevices Outdoor Switch is a HomeKit-enabled, rain-tight plug allows users to control, monitor and schedule electronics on the exterior of their home using Siri or the iDevices Connected app (e.g. holiday lights, spotlights, outdoor water fountains, etc.). The switch has dual outlets allowing users to simultaneously control two products. 
iDevices Thermostat is a HomeKit-enabled thermostat. It offers the ability to control and schedule temperature for AC and heating from anywhere using Siri or the iDevices Connected app.
iDevices Connected App 2.0 is a redesigned iDevices Connected app that sports a new interface. Through the iDevices Connected app, you can add iDevices products to your home network, pair them with your iPhone, iPad or iPod touch, name them for use with Siri and add them to a room, zone or scene. 
The app also has the ability to support HomeKit-enabled products from other manufacturers, such as the Schlage Sense Smart Deadbolt. The iDevices Connected app will be available for update prior to the launch of the new iDevices HomeKit enabled product line. 
iDevices products don't require an external hub or subscription fee and work right out of the box. There's no need for users to even know their Wi-Fi password to get set up. For HomeKit features, such as Siri voice control, an Apple TV (third generation or later) is required for use outside of your home. 
With HomeKit, users are able to group multiple products and actions together into what's called a "Scene." For example, telling Siri "Goodnight" could turn off a bedroom lamp and outdoor lights using the iDevices Switch and iDevices Outdoor Switch, while programming the iDevices Thermostat to a comfortable sleeping temperature.   
Through the iDevices Connected app, users are able to design custom schedules that fit their lifestyle. iDevices products have the unique ability to remember events and make sure they happen even when the user is away. 
By using the iDevices Switch, homeowners can save money on utility bills. The app shows current wattage draw of each iDevices Switch as well as an average usage per day. Also, users can upload photos of their home, rooms and products to the iDevices Connected app to add a personal touch and improve visual navigation.