More good news for the Apple Watch: Worldwide shipments of wearable devices are expected to reach 101.9 million units by the end of 2016, representing 29.0% growth over 2015. According to the International Data Corporation (IDC) Worldwide Quarterly Wearable Device Tracker, the market for wearable devices will experience a compound annual growth rate (CAGR) of 20.3%, culminating in 213.6 million units shipped in 2020.
Popularized by devices like the Apple Watch, Moto 360, and others, the smartwatch category is expected to increase from 41.0% of total wearables shipments in 2016 to 52.1% in 2020. However, not all watches are the same, according to IDC.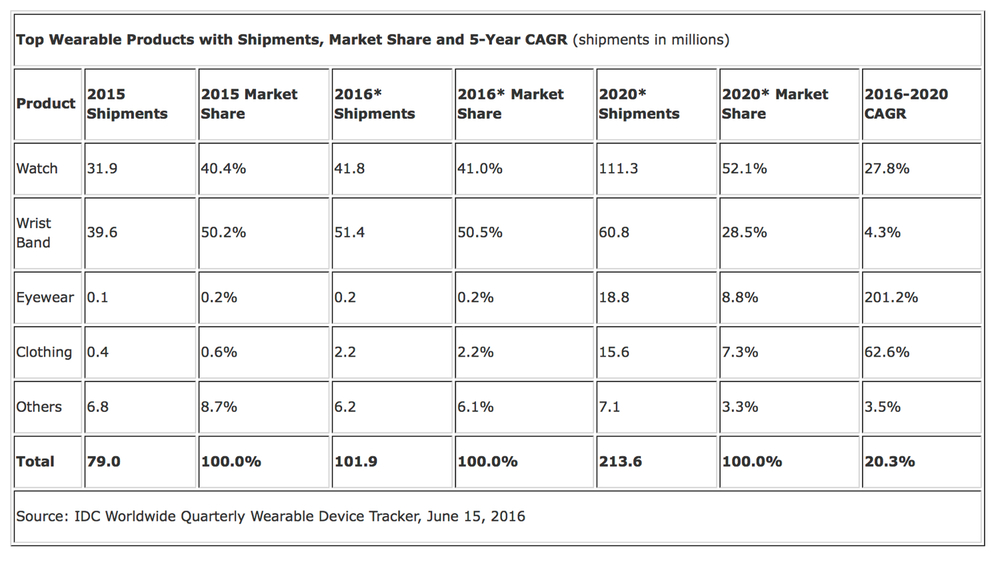 While smartwatches are in the spotlight today, future growth will come from basic watches that provide some sort of fitness/sleep tracking while not being sophisticated enough to run third party applications on the watch itself, according to the research group Traditional fashion brands like Fossil and health/fitness companies like Fitibit and Withings are expected to help this segment grow.
When it comes to eyewear (a market Apple has yet to enter), Microsoft's recent Windows Holographic announcement and abundance of hardware partners along with Google's competing Android platform are projected to drive uptake in eye worn devices, according to IDC. Initially, such devices are expected to bring a transformational shift in mobile computing to select industries and job functions.
However, IDC anticipates some hardware providers will also offer consumer-friendly options. Although this category will account for less than 10% of wearable device shipments by 2020, all eyes are on this lucrative category as it will account for more than 40% of the total revenue of the wearables market due to the high prices for specialized commercial devices, adds the research group.
---
Strada Folio Cases For The Apple iPhone 6/6s and 6/6s Plus Are Now Available at OtterBox.com!