International Data Corp. thinks that the rumored "iPad Pro" will be a "detachable" device, a hybrid tablet/laptop along the lines of Microsoft's Surface devices. As I've said before, I'm dubious, but IDC's theory is an increasingly popular one.
The research group says that tablet shipments, inclusive of 2-in-1 devices, are expected to decline -8.0% in 2015, representing a notable slowdown from IDC's previous forecast of -3.8%. Shipments are now expected to reach 212 million with the vast majority being pure slate tablets.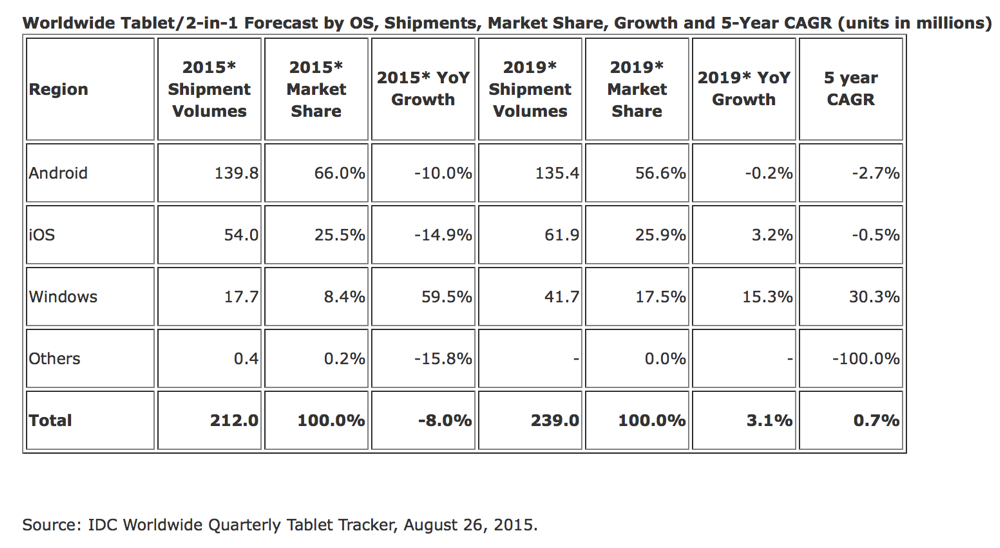 The overall trajectory of the tablet market has not changed significantly over the past year and a half, but the 2-in-1 segment, also referred to as detachables, is starting to gain traction, says IDC. While the 2-in-1 form factor is not new, OEMs [original equipment manufacturers] are getting more serious about this market and as a result, the research group expects the 2-in-1 segment to grow 86.5% year over year in 2015 with 14.7 million units shipped.
Although this volume is far below that of the more affordable slate tablet segment, IDC believes these devices appeal to an audience seeking an alternative to pure tablets with smaller screens. Ryan Reith, program director with IDC's Worldwide Quarterly Mobile Phone Tracker, says that "with the possibility that Apple will unveil a larger, screen-detachable iPad, this is the space to watch."
The commercial market has been very reluctant to migrate toward tablets, and IDC believes this is largely due to an unclear value proposition. The 2-in-1 segment should find opportunities within the commercial market, but IT buyers have been slow to move toward mobile devices beyond smartphones and do not yet see tablets or 2-in-1's as a true PC replacement.
"Commercial segments will play a crucial role in the future of 2-in-1's," says Jean Philippe Bouchard, research director, Tablets, IDC. "It will take some time but we expect that once IT departments are done evaluating Windows 10 and the awaited iPad Pro, they will start migrating some their portable PC and tablet installed base towards 2-in-1's, which will accelerate the adoption of the form factor. So far, this category has been the led by Microsoft with its Surface product line. But with the arrival of the iPad Pro, the launch of Windows 10, which is better suited for the 2-in-1 form factor, and the introduction of Intel's Skylake silicon, we expect a flurry of new devices to launch between now and December 2015."
Meanwhile, TIME says its research shows that computer buyers like businesspeople and students still want a traditional laptop rather than a "hybrid" device — a two-in-one gadget that works as both a laptop and tablet. Still, the magazine thinks that Apple is working on such a device. Meanwhile, I'm sticking with my prediction that the iPad Pro (which, keep in mind, hasn't been confirmed my Apple) will have an optional keyboard (as well as an optional stylus), but will most certainly be a tablet not a hybrid device.