This is good news for the Apple Watch: the worldwide wearables market saw positive growth as shipments grew 10.3% year over year, reaching 26.3 million during the second quarter of 2017 (2Q17), according to the International Data Corp. (IDC) Worldwide Quarterly Wearable Device Tracker. 
The quarter also marked a turning point in the market as basic wearables (those that don't run third party apps) declined for the first time with annual growth of -0.9%, according to the research group. Meanwhile, smartwatches like the Apple Watch and Android Wear lineup grew 60.9% in the quarter thanks to fitness and fashion enthusiasts.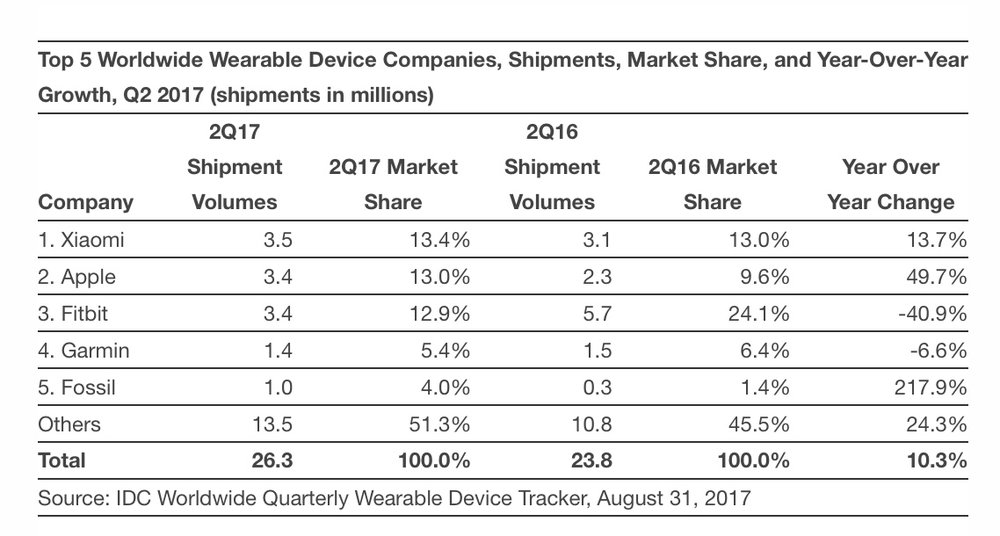 IDC says Apple's growth continued to outpace the market as the Series 1 and Series 2 are now mature products "with the clear and concise purpose of fitness." This has boded well for Apple as the company has been slowly expanding its reach among health insurance providers, adds the research group. The release of the Apple Watch Series 3 is expected soon (perhaps next month) so this trend should continue.
The transition towards more intelligent and feature-filled wearables is in full swing," says Jitesh Ubrani senior research analyst for IDC Mobile Device Trackers. "For years, rudimentary fitness trackers have acted as a gateway to smartwatches and now we're at a point where brands and consumers are graduating to a more sophisticated device. Previous niche features such as GPS and additional health tracking capabilities are quickly becoming staples of the modern smartwatch. Just a year ago only 24.5% of all wearables had embedded GPS while today that number has reached almost 41.7%."
He adds that companies like Apple and Fitibit have the potential to maintain their lead as their investments in the tracking and perhaps diagnosing of diseases will be a clear differentiator from low-cost rivals.