According to preliminary results from the International Data Corporation (IDC) Worldwide Quarterly Mobile Phone Tracker, vendors shipped a total of 362.9 million smartphones worldwide in the third quarter of 2016 (3Q16). Despite the recall of Samsung's Galaxy Note 7, volumes were up 1% compared to 3Q15 when vendors shipped 359.3 million units.
Sequentially, shipments grew 5.3% from 344.7 million in the second quarter of 2016. (IDC's totals for Samsung exclude Galaxy Note 7 shipments for both recalled and unsold devices in 3Q16.)
Apple's iPhone 7 and 7 Plus drove third quarter shipments of 45.5 million units, down 5.3% from the 48 million units last year. Higher than expected iPhone 7 Plus demand outstripped supply, which should be alleviated through the fourth quarter, helped by new features such as water resistance, faster processing, improved optics, and larger storage capacities, according to IDC.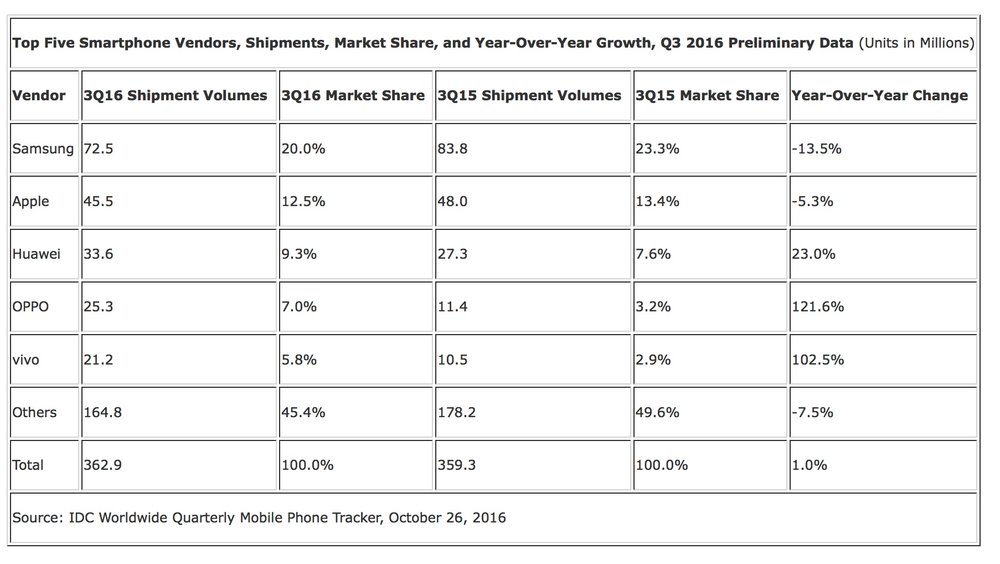 The new "jet black" color option has also proven popular with many carriers and retail partners are still showing the device on back order. IDC believes that the iPhone could witness greater success come next quarter as it stands to likely benefit from the Note 7 recall that took place earlier this month. Apple currently has 12.5% of the global smartphone market, compared to 13.4% in the third quarter of 2015.
The continued success of the Galaxy S7 and S7 edge helped maintain volumes in 3Q16 despite the recall and negative publicity of the Note 7 fiasco. Outside of Samsung's flagship S7, the more affordable J-series of devices continued to steadily drive volume in both developed and emerging markets with flagship-styled devices across various price points and display sizes.
Samsung will need to put the Note series to rest as quickly as possible and look to their S7/S7e to captain the ship and keep Samsung users on board for the long haul, according to IDC. Samsung currently has 20% of the global smartphone market, compared to 23.3% in the third quarter of 2015.
"With Samsung's Note 7 finally laid to rest, both Samsung and other vendors will need to invest both time and money into properly testing devices to avoid a future incident of this proportion," said Anthony Scarsella, research manager, Mobile Phones, IDC. "The recall of the Note 7 represents an industry-wide wake-up call that will undoubtedly lead to a more vigorous testing and certification process moving forward."
The top five vendors remain unchanged from last quarter despite double- and triple-digit growth from the leading Chinese vendors Huawei, OPPO, and Vivo. While Samsung and Apple continue to challenge each other at the top, these upcoming players have delivered value-packed devices that offer consumers top-shelf features at a fraction of the cost compared to the market leaders, according to IDC.
Phones like the OPPO R9 and the Vivo X7 have become serious competitors in China and are also witnessing mild success in Western Europe thanks to new athletic sponsorships across various countries. Whether or not these brands can make an impact in the U.S. market remains to be seen, but success will be crucial if aspirations of growth are a top priority.