iCloud.com is the web-based portal for many of the apps built into OS X and iOS. A new feature provides a way for iCloud users to recover deleted files, contacts, calendars and reminders from iCloud on the web, making the service even more useful.
To use the new recovery feature, simply log onto iCloud.com using your Apple ID. Once signed in, click on Settings: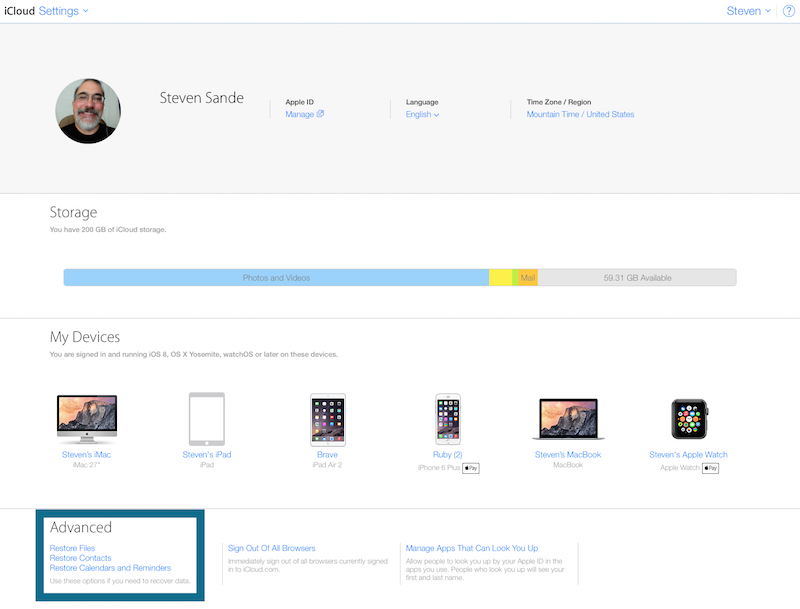 In the lower left corner of the Settings page is a box marked Advanced. It's here where you can find links to Restore Files, Contacts, Calendars and Reminders. Clicking on Restore Files displays a list of files stored in iCloud that have been deleted recently, along with a date stamp showing when the file will finally be deleted:
The image above shows that some documents have over three weeks of "life" remaining in the cloud, while one image is about to be deleted forever. Clicking Restore Contacts provides a way to bring back contacts that you may have inadvertently deleted at one point or another: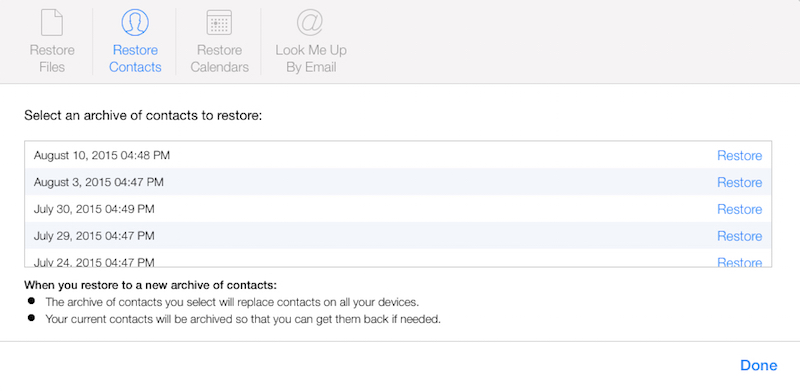 It does this by archiving all contacts stored in iCloud once a week. Restoring an archive will replace all of your existing contacts, which not only means that you'll get back those contacts you deleted, but also lose any contacts you've added since. How about those calendar events and reminders that have been removed? Click on Restore Calendars to see what's been removed: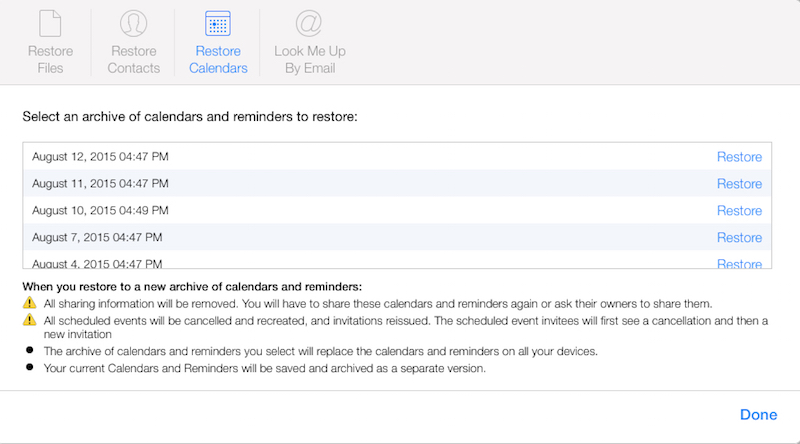 As with contact information, calendars are archived. However, since calendars and reminders change more frequently, it appears that they're archived every day if changes have been made. Restoring an archive of calendars and reminders removes any sharing information, and scheduled events are canceled and then re-created.
Our Take On The News:
Hats off to Apple for providing a way to easily restore items that may have been deleted accidentally. This is one more feature sure to increase the popularity and usage of iCloud, which of course will benefit Apple when more users choose to pay for additional storage.