IBM has announced the first IBM MobileFirst for iOS education app: IBM Watson Element for Educators, which enables a new level of engagement for teachers by providing a holistic view of each student at their fingertips, including data on interests, accomplishments, academic performance, attendance, behaviors and learning activities.
As a result, teachers are empowered with data-driven insights to help them address individual needs that can potentially lead to better outcomes throughout student's K-12 learning experiences, according to Harriet Green, general manager, IBM Watson Internet of Things, Commerce & Education.
Coppell Independent School District (ISD) in Texas is the first school district to use the app to provide deeper levels of personal interactions and learning experiences for its students. It's a top-ranked school district in Texas, serving the communities of Coppell, Valley Ranch, North Irving and the City of Dallas, with nearly 12,300 learners and over 750 teachers.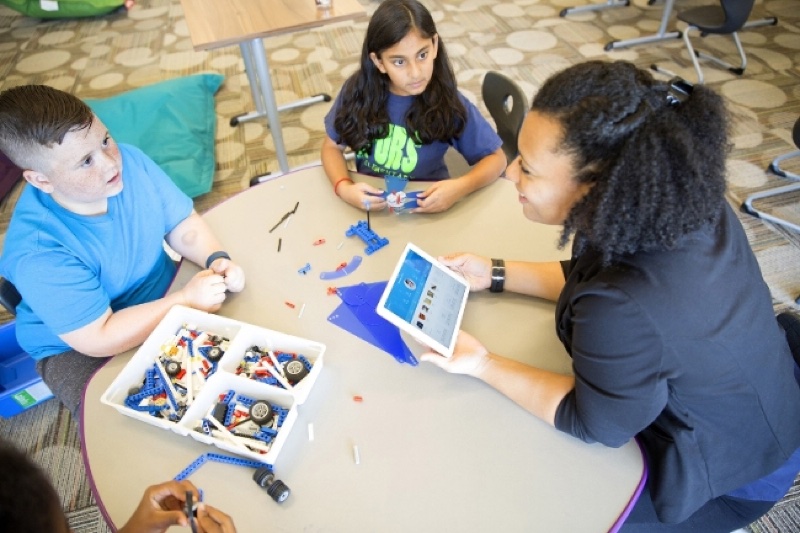 With increasing demands on educators, teachers need tools that will enable them to better identify the individual needs of all students while designing learning experiences that engage and hold the students' interest as they master the content. This is especially critical given that approximately one third of American students require remedial education when they enter college today, and current college attainment rates are not keeping pace with the country's projected workforce needs, says Green. A view of academic and day-to-day updates in real time can help teachers provide personalized support when students need it, she adds.
IBM Watson Element is designed to provide teachers with a holistic view of each student through an easy-to-use and intuitive mobile experience that's a natural extension of their work. Teachers can get to know their students beyond their academic performance, including information about personal interests and important milestones students choose to share. For example, teachers can input notes when a student's highly anticipated soccer match is scheduled, when another has just been named president for the school's World Affairs club, and when another has recently excelled following a science project that sparked a renewed interest in chemistry.
The"spotlight" feature in Watson Element provides advanced analytics that enables deeper levels of communication between teachers about their students' accomplishments and progress. For example, if a student is excelling academically, teachers can spotlight that student, praising their accomplishments across the school district. Or, if a student received a top award in the district art show, a teacher can spotlight the student so their other teachers know about it.
The app also enables teachers to take advantage and make sense of all the data from the school district that already exists today, including attendance and current academic performance. With data-driven insights at their fingertips, teachers can spot trends across groups, allowing them to bring students together for small group instruction based on common skill levels or areas of interest.
"Working with Apple and IBM, we are developing creative solutions and designing experiences for educators to engage learners, tap into their interests and align with their learning styles in order to help meet academic needs," says Dr. Marilyn Denison, Coppell ISD Assistant Superintendent for Curriculum and Instruction. "Using the Watson Element app, educators now have the relevant, real-time information they need in order to individualize learning and prepare students to be successful in an ever-changing world."
The app works with Watson Enlight, a browser-based tool for teachers, to support data-driven insights and lesson planning. Through the integrated Natural Language Processing capabilities of IBM Watson, teachers are also provided with specific recommended learning content that is tailored to the characteristics and needs of each student. For example, if a student is struggling with a particular algebra lesson, Watson capabilities can recommend to teachers more visual content that integrates some of the student's favorite hobbies, like basketball, which helped the student in the past.
Teachers at Coppell previously spent hours searching and sorting through student data and classroom performance from a variety of sources including digital and paper records from the schools' information systems. Now, using Watson Element, teachers will be able to make data-driven decisions in real time and give instant feedback, on the iPad, of their observations of each student's mastery of skills. The app enables teachers to intervene if a student is stagnating or falling behind, and can share key trends around behavior to help address issues and determine what is successful in other classrooms and school activities.
Apple will offer the Watson Element app as part of its broad portfolio of educational tools for schools designed to transform the teaching and learning experience.