In an intriguing column for Macworld, Jason Snell has some interesting thoughts on the rumored "Project Marzipan," which will, if it comes to fruition, allow iOS apps to run in macOS. One question he raises: If Apple moves to make the Mac more friendly to iOS apps, would that be enough of a reason to bring touchscreens to Mac hardware?
"Apple has resisted touchscreens on Macs thus far, in part because they believe (rightly, in my opinion) that adding touch to the Mac interface would require a pretty serious re-think of that interface. That's tough to do when the Mac's greatest asset is its familiarity," Jason writes. "A touchscreen on a Mac makes more sense, though, when it's able to run a whole class of applications that are built with touch in mind. And even old-school Mac apps could take advantage of touch in a few places—scrolling webpages in Safari, or pinching to zoom in Preview, for example."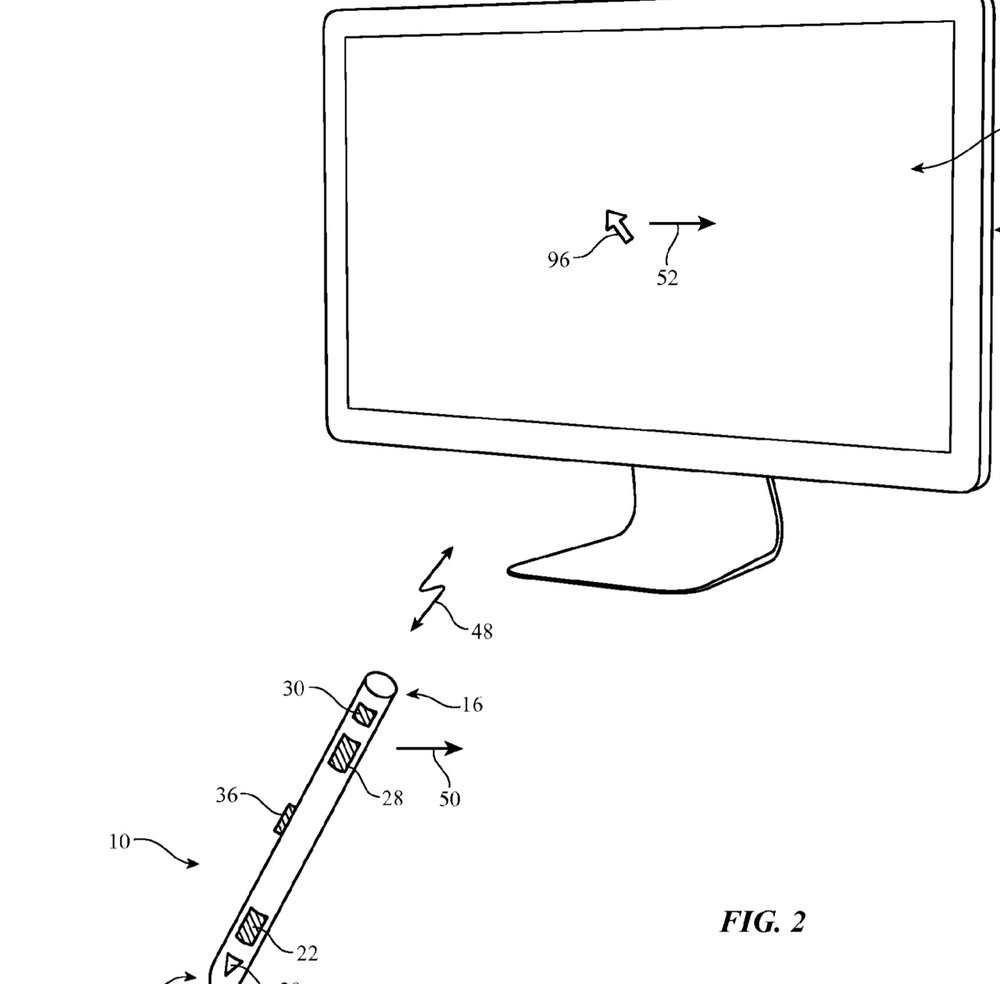 Let's assume (which is dangerous, I know) two things: 1) Marzipan is a real thing and will debut at June's Worldwide Developer Conference, and 2) Apple will stick to its guns and refuse to make a touchscreen Mac.
One possible answer: a super-sized Magic Trackpad with Apple Pencil support. I expect the Touch Bar introduced on certain models of the 2016 MacBook Pro is just the beginning of ways Apple will offer touch input on Macs without actually having touch screens on laptops or desktops. I also expect (hope?) to see a Magic Keyboard with Touch Bar for iMacs and Mac Pros — and Mac minis, if it ever gets an update.
In July 2016, Apple was granted a patent (number 9,400,570) for a "stylus with inertial sensor" with images (shown) showing the Apple Pencil working with a Mac. What's more, per the patent, the Apple Pencil may also be operated as a as a joystick, a rotational controller, or other input devices in addition to serving as a touch sensor input device. For example, on-screen content may be rotated, tilted, or otherwise manipulated using rotational controller and joystick input from the inertial sensor.
If Apple is adamant about no touchscreen Macs, a Magic Keyboard with Touch Bar and bigger Magic Touchpad with Apple Pencil support seem to be the most logical alternatives.
---
Like this article? Consider supporting Apple World Today with a $5 monthly Team AWT membership.