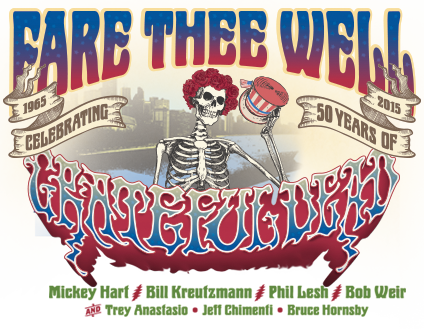 The remaining original members of the Grateful Dead are reuniting to celebrate their 50th anniversary with a series of five "Fare Thee Well" concerts that start this weekend. The first two shows will be held in Santa Clara, California beginning June 27th with three additional shows planned for Chicago over the July 4th weekend.
For those who cannot attend the concerts, the band is streaming all the shows online in a variety of formats including pay-per-view on YouTube, cable pay-per-view and via the MLB's webcasting service. Read on to find out how you can watch the shows on your iOS or OS X devices.
iPhone, iPad or Apple TV
For those with an iPad, iPhone or YouTube-capable Apple TV, your only option to watch the shows is the live YouTube feed as the MLB webcast stream requires Flash. In order to watch on YouTube, you'll have to purchase the content online at YouTube.com first and then fire up the shows on your iOS device. As of the writing of this post, the June 27th and 28th California shows are listed for purchase now.

All five shows will be available in this format, but the feed is live only and will not be available to watch after the event is over. Each California show costs $19.95 to stream while the final Chicago shows are priced at $29.95 each. You can view a list of supported connected devices on this YouTube streaming support page.
Mac
Mac users have the option to purchase either the YouTube stream or a webcast that'll be provided by MLB.com. The webcast will stream in HD with an SD option for slower connections. Both the Santa Clara and Chicago shows will be available to stream live as they are happening and after the concerts via a video-on-demand feature that allows unlimited viewings for 30 days.

The webcast option requires Flash and a minimum Internet connection of 3,000 kbps (3Mbps). Pricing is consistent with the YouTube service with each California show costing $19.95 to stream, and the final Chicago shows available for $29.95 each. You can save $20 and purchase a bundle of all five shows for $109.95. Additional details on the MLB showings are available on this webcast FAQ.
Cable and Satellite Subscribers
For cable and satellite subscribers, there's also the option to buy the Chicago shows through your provider's pay-per-view service. Pricing is comparable to the other streaming options with the Chicago shows costing $29.95 each. The two Santa Clara shows are not included in the In Demand package.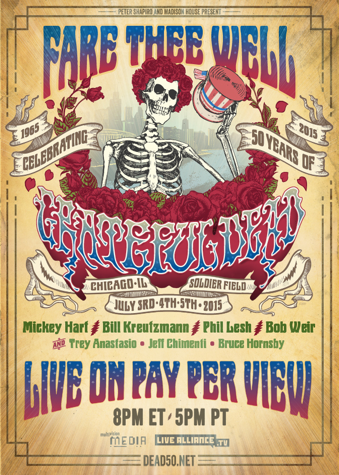 Similar to the MLB webcast, the In Demand streams will be available live and via video-on-demand (VOD) for 30 days after the show. Unlike the webcast which provides unlimited viewing, the In Demand VOD only allows viewing within 24 hours of beginning your viewing.
Supporting cable and satellite providers include: Verizon FIOS, AT&T U-Verse, Bell TV, Bright House Networks, Cablevision, Charter Communications, Comcast XFINITY, COX Communications, RCN, Rogers Cable, SaskTel, Time Warner Cable, Vubiquity, DISH Network and DirecTV.
Concert Information
The Grateful Dead will be playing at the following venues and times with the live streams starting when the concerts begin.
June 27, 2015 – Santa Clara, CA : Showtime at 7 pm PST
June 28, 2015 – Santa Clara, CA : Showtime at 6 pm PST
July 3, 2015 – Chicago, IL : Showtime at 7 pm PST
July 4, 2015 – Chicago, IL : Showtime at 7 pm PST
July 5, 2015 – Chicago, IL : Showtime at 7 pm PST
You can view additional information about the shows and venues on the Dead's 50th Anniversary "Fare Thee Well" website.