Sadly, sometimes it may be necessary to reboot a HomePod or HomePod mini to its factory settings. Perhaps the wireless speaker isn't updating its firmware automatically. Perhaps it's not "finding" your Wi-Fi network.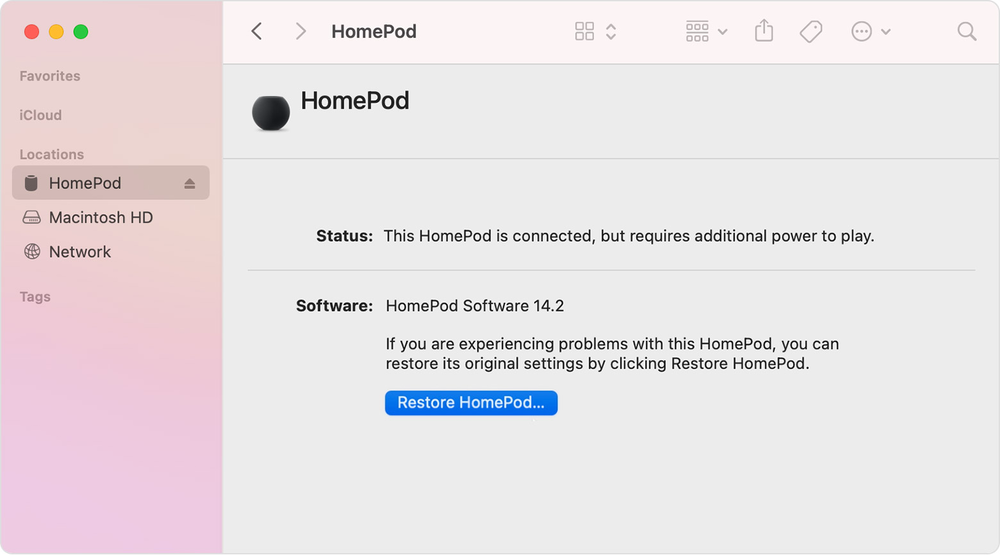 Whatever the reason, if you need to reboot, here's how:
First try to restart it with the Home app. Open the Home app on your iPhone, iPad, iPod touch, or Mac. On iPhone, iPad, or iPod touch, press and hold HomePod. On Mac, double-click HomePod. Scroll down and tap or click Reset HomePod, then select Restart HomePod.
If the HomePod or HomePod mini still doesn't respond, reset it. Note that you should only reset HomePod when:
You want to reset HomePod to factory settings.

You need to send your HomePod in for service.

You want to sell or give away your HomePod.
If you have two HomePod speakers set up as a stereo pair, you'll need to ungroup the stereo pair before you can reset HomePod:In the Home app on your iOS or iPadOS device, touch and hold the HomePod pair.
Tap Settings.

Tap Ungroup Accessories.
If you can't remove HomePod or HomePod mini from the Home app, you can press the top of HomePod to reset it to its factory settings. Here's how:
Unplug HomePod or unplug the power adapter for HomePod mini, wait 10 seconds, then plug it back in.

Wait 5 seconds, then touch your finger to the top of HomePod and hold it there.

The white spinning light will turn red. Keep your finger down.

Siri will say that your HomePod is about to reset. When you hear three beeps, you can lift your finger.
If you still see HomePod in the Home app after you reset it, then you'll need to manually remove it from the Home app.
To reset a HomePod mini with a Mac:
Plug HomePod mini into your computer using the USB-C cable that came with it.

Wait a few seconds. Find your HomePod in the sidebar under Locations and select it.

Click Restore HomePod.
(This how-to is based on my experiences and info on Apple's support pages — where the images sometimes come from.)