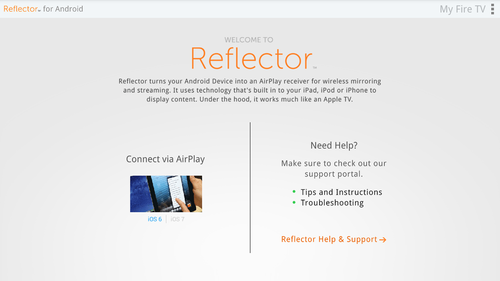 I've long since abandoned the Apple TV for a Roku 3 and, more recently, the Amazon Fire TV. Though I am happy overall with the switch, one feature I miss from the Apple TV is AirPlay, which allows you to stream content as well as mirror an iOS device or a Mac to an HDTV. Though Roku does not support iOS mirroring, there is a solution for the Fire TV thanks to the folks at Squirrels, who created a version of Reflector exclusively for Amazon's media player.
To stream or mirror your iOS device, you first need to install Reflector on the Fire TV. The app is available on the Amazon Appstore for Android and costs $6.99. You can install it by purchasing it on the Appstore using this link and then delivering it to your Fire TV. You also can search for apps on the Fire TV and install it directly to the media device.
Once Reflector is installed, you need to launch it on the Fire TV by navigating to the Apps tab and then selecting the app from the list of available titles. Once Reflector is running on your Fire TV, you can open your iPad or iPhone and choose to connect to the media device via AirPlay in iOS 8. Just swipe up from the bottom of the screen to open Control Center. Inside Control Center, there is an option for AirPlay that'll allow you to choose the Fire TV as an AirPlay receiver and also turn on mirroring if needed.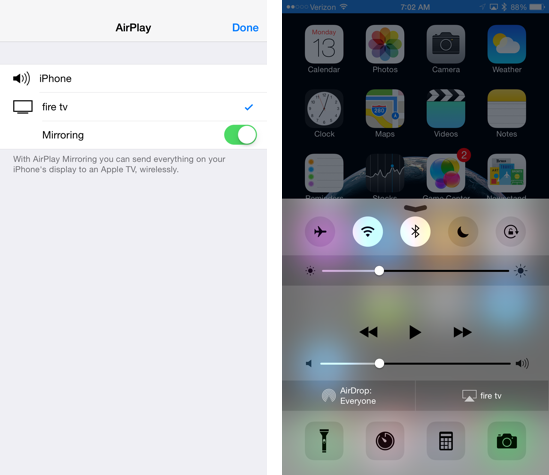 The mirroring option will duplicate the contents of your iPhone or iPad on the Fire TV so you can see it on the HDTV, while the AirPlay only setting (no mirroring) will allow you to send content to your HDTV on an app-by-app basis.
If you choose to mirror your device, you should be able to see your home screen on the Fire TV almost immediately. If you choose AirPlay without mirroring, you will need to open an app, like Photos, and select AirPlay when you want to share a clip. For most purposes, Reflector works well when connecting an iPhone and iPad to the Fire TV. I've used it to show off photos, share a new app with a group and teach my children by reviewing an iPad document to everyone at once.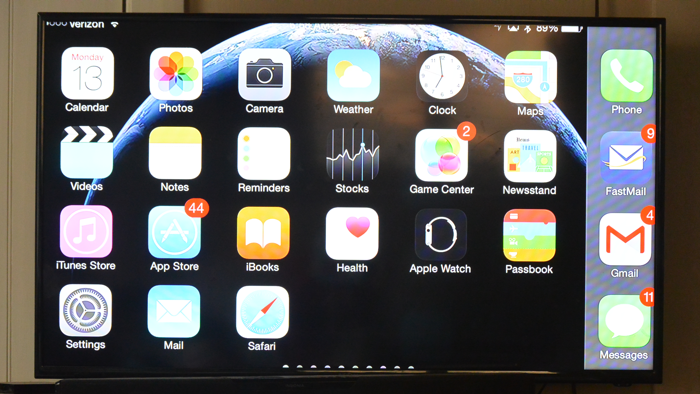 The only hiccup I've experienced is with video. Video streams from the photos app and other sources just did not perform well. Rather than troubleshoot why, I just accepted the limitation and now avoid that media. One other issue is with AirPlay itself — not all apps support the technology. Media streaming apps, in particular, often disable this feature. Overall, though, I am happy with the performance of Reflector on the Fire TV and feel it was money worth spent.