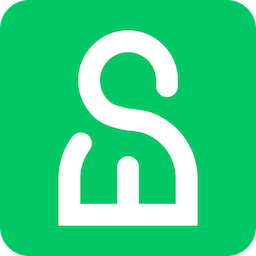 Apple's Activation Lock technology is designed to prevent anyone else from using your iPhone, iPad, or iPod touch if it's lost or stolen. It's automatically turned on when you turn on Find My iPhone (or iPad…) on your device. While helpful with thefts or other loss, Activation Lock can totally disable your device if you forget your Apple ID password or received a used device from someone who forgot to deactivate the feature. Here's one way to bypass iCloud Activation Lock — WooTechy iSalvor.
Why Would You Use WooTechy iSalvor?
You would use this app legally if you totally forgot your Apple ID password and couldn't use your device, or if you bought (or were given) an iPhone, iPad or iPod touch from someone who forgot to turn off Activation Lock. In those situations, the device is essentially "bricked" and unusable.
That's where WooTechy iSalvor comes in handy as one of the best tools to bypass Apple Activation Lock.
Disclaimer
Before we go any further, it's important to know two things. First, WooTechy iSalvor jailbreaks your device. Second, bypassing iCloud Activation Lock on your device may go against the laws of your country or region, and may also go against Apple's regulations.
From WooTechy's website:
WooTechy's SOFTWARE INTENDED FOR LEGAL USE ONLY. Bypassing iCloud activation lock on iPhone/iPad/iPod touch may go against the regulations of Apple company or Laws of your country or region. Violation of the law's requirements would be liable to severe monetary and criminal penalties. Please consult your own legal advisor for professional opinions on the legality of using this Licensed Software in the way you intend to use. You take full responsibility for downloading, installing, and using it. WooTechy shall not be responsible if you choose to bypass iCloud activation lock on a device without being permitted to; nor can WooTechy provide legal advice on the use of the bypassing software. All rights not expressly granted herein are reserved to and retained by WooTechy.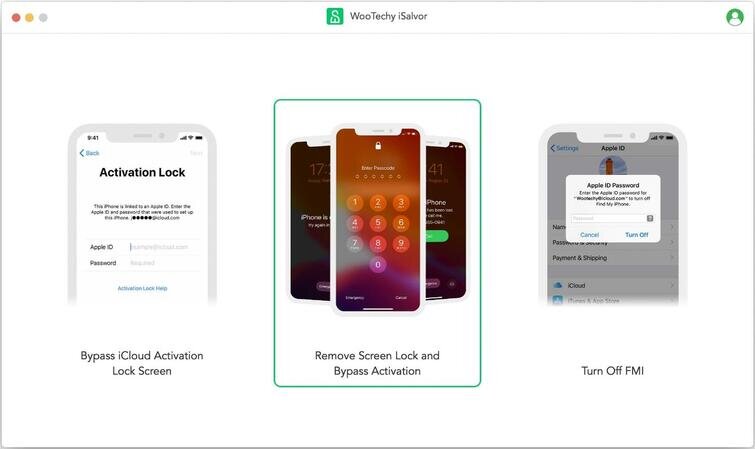 Three Modes
iSalvor has three available modes. As you can see in the screenshot above, the first bypasses the iCloud Activation Lock screen, the second removes the screen lock and bypasses activation of the device, and the third simply turns off Find My iPhone (or iPad, or iPod touch).
Mode 1: Bypass the iCloud Activation Lock Screen
In this mode, begin by connecting your device with a Lightning cable (preferably an Apple original or MFi-certified cable) to your Mac. Once the device is recognized by iSalvor, a jailbreak is required.
iSalvor downloads the proper jailbreak package for your device, at which point you click Start Jailbreak. iSalvor provides complete onscreen instructions to follow, and once the jailbreak is complete, you're asked to click Next.
iSalvor now displays all of the pertinent information for your device, including model, iOS version, IMEI, serial number, and UDID. With a quick click on the Start Bypass button, the bypass is completed, at which time you can use a new Apple ID with the device.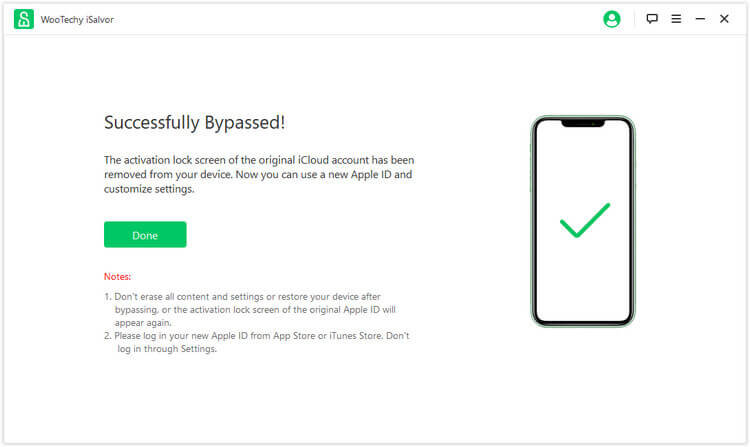 Note that if you have a device running iOS 12, all functions work fine after using iSalvor. However, the activation lock returns when you reboot the device. For devices running iOS 13 or later, the device appears as new without the activation lock reappearing after a restart.
Mode 2: Remove Screen Lock and Bypass Activation
This mode allows you to unlock your device when it's locked by a unknown screen passcode, or if Activation Lock has been activated. Once this process is complete, you can enter the new device and sign in with a new Apple ID.
After selecting the mode from the iSalvor mode screen, you connect your device to the Mac. As with Mode 1, you may be asked to trust the computer — if this happens, tap "Trust". Now, follow the on-screen instructions to put your device into recovery mode. You'll need to make sure you select the correct device model at the top of the screen so you get the correct instructions.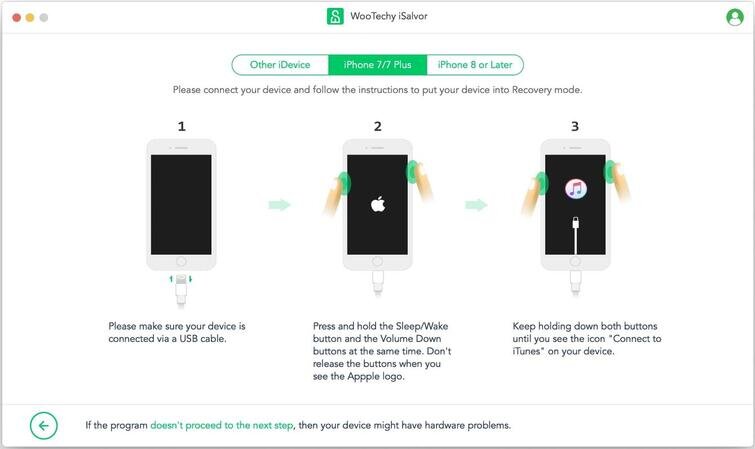 A screen appears showing your device model, serial number, FMI (Find My iPhone/iPad/iPod touch) status, and iOS version. If you're not sure of the status of FMI, follow the instructions to find out.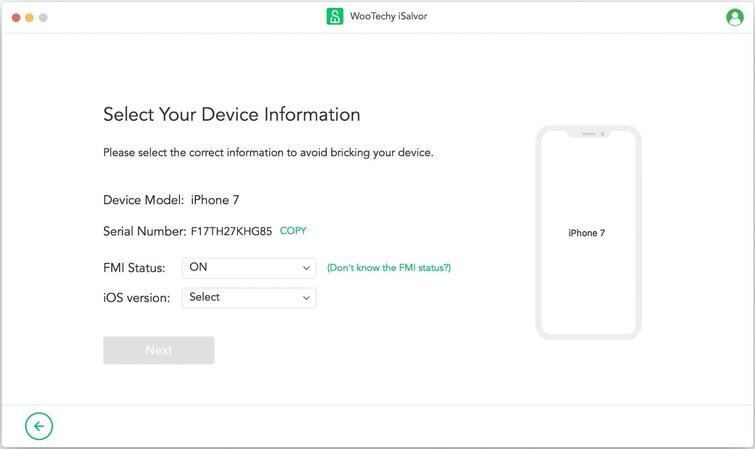 Like we saw earlier for Mode 1, a jailbreak is now required for the device. iSalvor downloads a jailbreak package, you agree to the terms of performing the jailbreak, and then click Next to begin the process.
There's a slight difference in the process after the jailbreak for devices running iOS 12 or iOS 13 and later. For iOS 12 devices, a second jailbreak is required, after which you can sign into the device with a new Apple ID.
For devices running iOS 13 or above, iSalvor starts turning the Find My iPhone/iPad/iPod touch function off. You need to verify the status of FMI, then click Confirm (see screenshot below).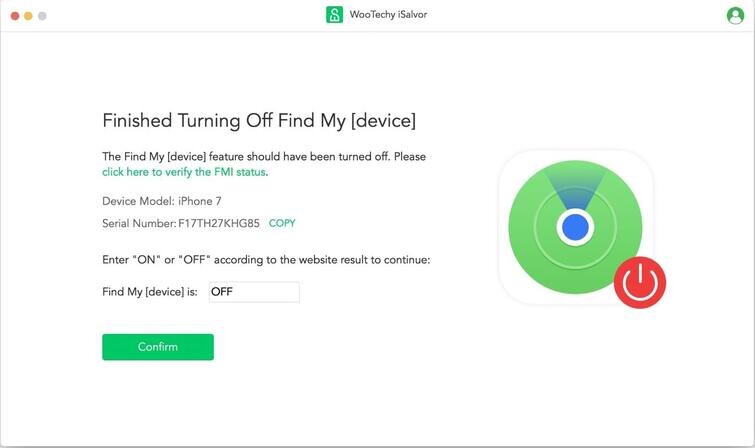 iSalvor now downloads and installs iOS firmware to bypass the Activation Lock. Once that's done, your device is as good as new!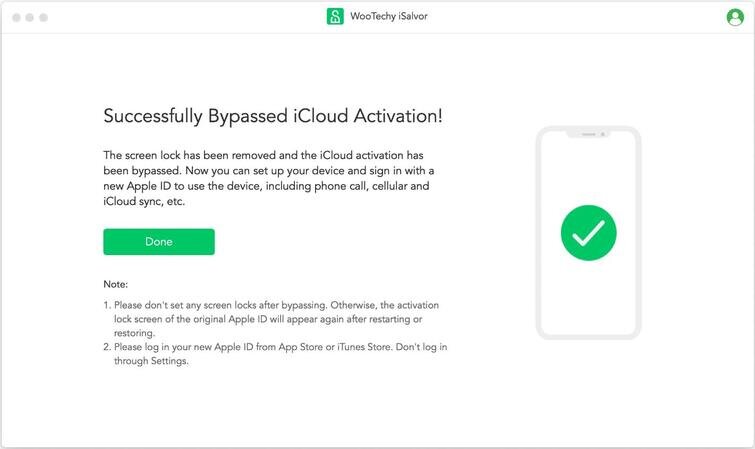 Mode 3: Turn Off Find My iPhone/iPad/iPod touch
The third and final mode of WooTechy iSalvor turns off the Find My iPhone ruction and removes the Apple ID completely. After that point, it's possible to sign in with another Apple ID.
We won't go into the details of the process, but it is very similar to what you've seen for Modes 1 and 2. At the end of the process, you're greeted with the following screen: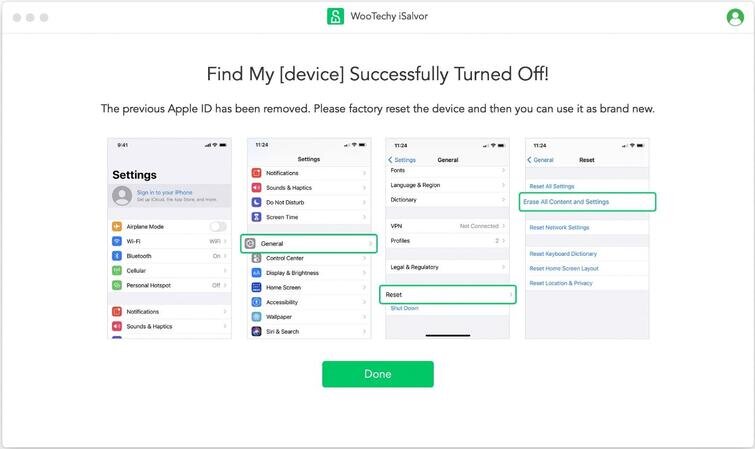 With a simple factory reset, your device is like brand new!
Buy WooTechy iSalvor for One or More Devices
It's free to download WooTechy iSalvor to your Mac, but in order to use its features, you'll need to buy a license. Now, if you just have one device, you can get a 30-day license for $39.95 — resolve your problem, cancel your license at any time, and you're good to go.
In situations where you may need to bypass Activation Lock repeatedly on a single device, the one-year plan ($49.95) is the most popular plan. Finally, WooTechy offers Lifetime Plans that can be useful for companies specializing in fixing problems with iOS and iPadOS devices. These range in price from $69.95 for five devices to $399.95 for an unlimited number of devices.
All iSalvor license purchases come with a 30-day money back guarantee, free technical support, and updates. WooTechy iSalvor is definitely one of the best tools to bypass Apple Activation Lock.