I've been playing around with the various beta versions of iOS 10 for months now, so I've had time to get used to some of the new features. One that might surprise owners of any iPhone is just how different the experience of picking up your device and unlocking is with iOS 10. In advance of this shock to your old habits, I'll tell you how your new and old iPhones will react when you pick them up to use them.
Here's the biggest thing you're going to have to unlearn:
Slide to unlock is gone
Yep, that one gesture that everyone has gotten pretty used to has been rendered obsolete by Touch ID on the latest iPhones, and Apple's moving you into the future with "press home to unlock". For older iPhones without Touch ID or for folks who haven't yet used Touch ID (my wife, for example…), picking up that iPhone and pressing the Home button to show the lock screen will show two new things — notifications from apps and the words "Press Home to Unlock" (see image at right).
Swiping to the left brings up your Camera app so you can take a picture or shoot some video (see the arrow in the image at right? It points at a camera icon). Swiping to the right to try to unlock the phone displays Notification Center widgets, with information from things like the Weather app, your Calendar, the News app, Stocks, etc… If you don't need to do something with one of those apps — for example, you just want to see what the weather is going to be like or what your next appointment is — you can just glance at it with a swipe on the lock screen. Just think of it as the Notification Center's "Today" screen widgets, available on the lock screen.
Raise to Wake
One of the other big shocks will come to folks with an iPhone 6s, 6s Plus, SE, 7, or 7 Plus — your iPhone can be set to show you the lock screen without pushing any buttons with Raise to Wake. Just pick up your iPhone and the M9 motion coprocessor (or its equivalent in the iPhone 7/7 Plus) senses the motion, then turns on the display. It's like an Apple Watch in that respect, where the gesture of wanting to look at the screen shows you the screen.
Take Raise to Wake and the new lock screen, and things are totally different for owners of the more recent iPhones. Pick up your iPhone and do a quick swipe to the right to see notification center widgets without unlocking the phone, or swipe to the left to take a quick photo. Only when you need to actually interact with an app do you need to place your finger on the Home button to unlock the phone or punch the button to bring up the passcode screen.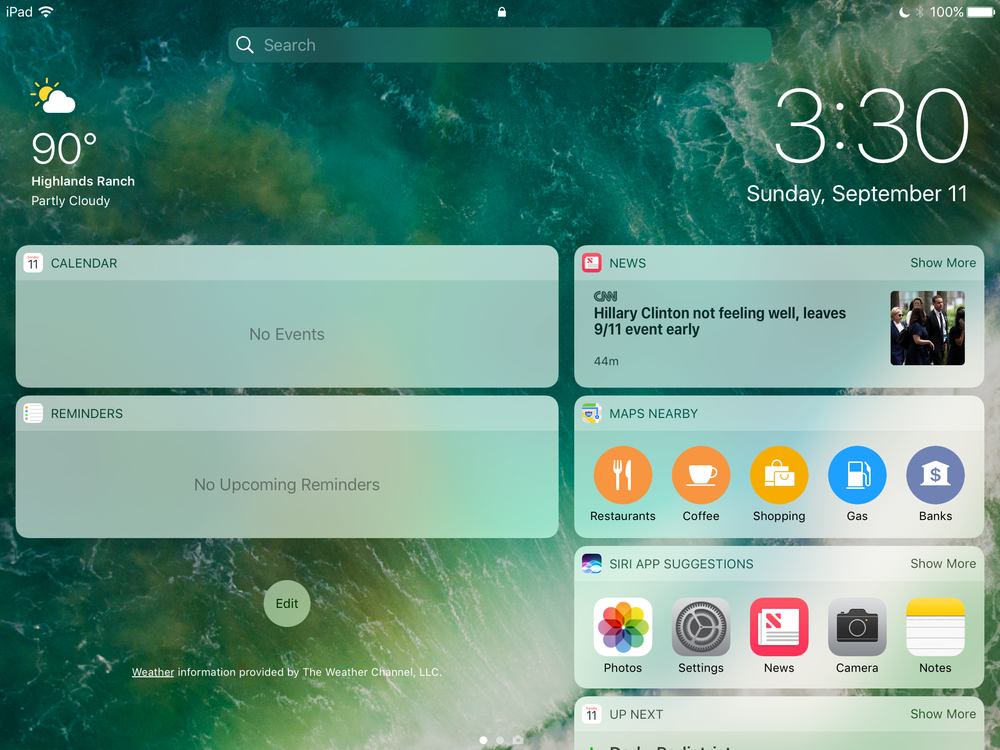 Lock screen on the iPad
One other cool thing for iPad owners; all of your notification center widgets can be displayed in landscape orientation. I use my 12.9-inch iPad Pro with a keyboard, so it's nice to know that I can wake the iPad and do that swipe to the right to take a look at notifications. Even on an iPad mini, the lock screen shows two side-by-side columns of widgets (see image above).
We'll be providing you with other iOS 10, macOS Sierra, and watchOS 3 tips for the next few weeks, so be sure to keep your browser pointed to Apple World Today.