I've always appreciated the HiRise line of products, but Twelve South has kicked things up a notch (pun intended) with the HiRise Duet. The latest iteration of the charging stand/dock powers your iPhone and Apple Watch simultaneously. This saves some desktop real estate and eliminates a bit of cord clutter.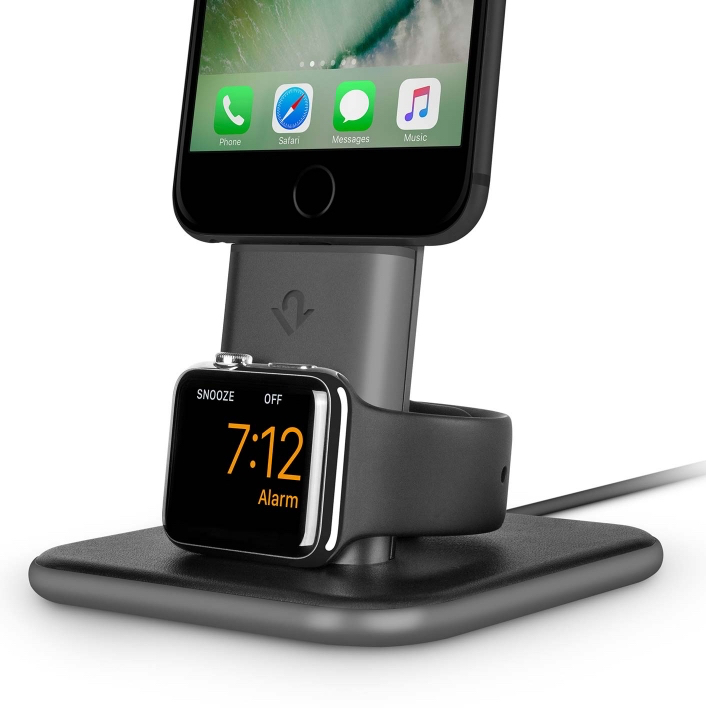 I use my iPhone 7 Plus and Apple Watch Series 2 with the HiRise Duet. This means only one power outlet has to be connected. The charging stand has an integrated Lightning connector and a Watch Charging Disk, so does double duty. The HiRise Duet works with most iPhone cases and sleeves attached to the smartphone — although if you have a really thick case, it could be a problem.
It also works with the Apple Watch in NightStand Mode, which makes it convenient for beside use. (When you use Nightstand mode, your Apple Watch displays the date and time, along with the remaining charge. If you set an alarm, it also appears on the watch face.)
When you wrap your Apple smartwatch around the support post on its side, it automatically turns it into a bedside alarm clock, with the crown serving as a snooze button. To protect your Watch's finish when it's on its side, the base of HiRise Duet is lined with a soft layer of leather.
Not only is the charging stand functional, but it's attractive as it's made from sleek metal and accented with napa leather. It also has a rubberized bottom. This and its one pound weight keeps it firmly in place on a nightstand or desk. Nor does it take up much space thanks to its 3.75-inch square footprint.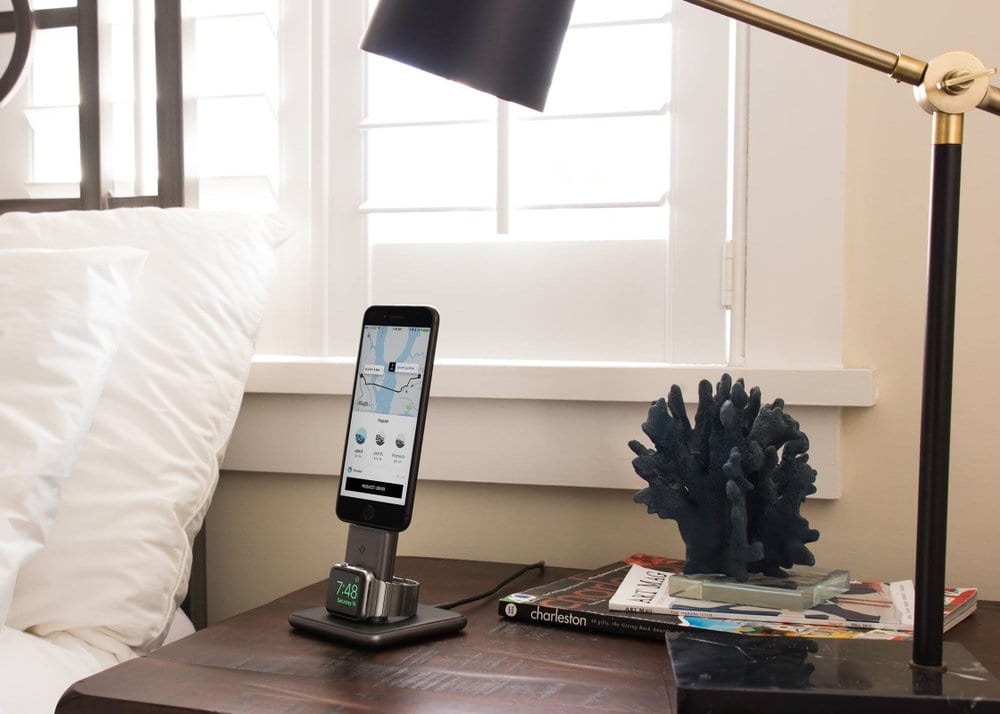 The HiRise Duet is good for more than charging. The metal pedestal elevates an iOS device for FaceTime chats, hands-free calls, desktop charging, viewing apps and streaming music. It does this without blocking your speakers, mic or headphone ports as some docks do.
At US$119.99, the HiRise Duet isn't a spur-of-the-moment purchase. However, the price is reasonable. Purchased separately at the Apple store, all cables, connectors and plugs would cost just under $200. Also, Apple's own Watch charging stand is $80 while Belkin's dual charging station is $10 more and doesn't support Nightstand mode.
When it comes to functionality and aesthetics, the HiRise Duet is one of the best docks/charging stations you can buy. It works with the Apple Watch, iPad mini, iPad mini 4, 9.7-inch iPad Pro (sorry, but the 12.9-inch model is just too big), and the iPhone 5s/SE/6/6s/6 Plus/6s Plus/7/7Plus.