Security is the number one concern for healthcare organizations managing mobile devices, but more than a quarter of healthcare IT decision makers aren't fully confident in their organization's mobile device management (MDM) solution. These are the key findings from a new report, "A Pulse on Mobility in Healthcare," based on a global independent survey commissioned by Jamf, which specializes in Apple management, and conducted by Vanson Bourne.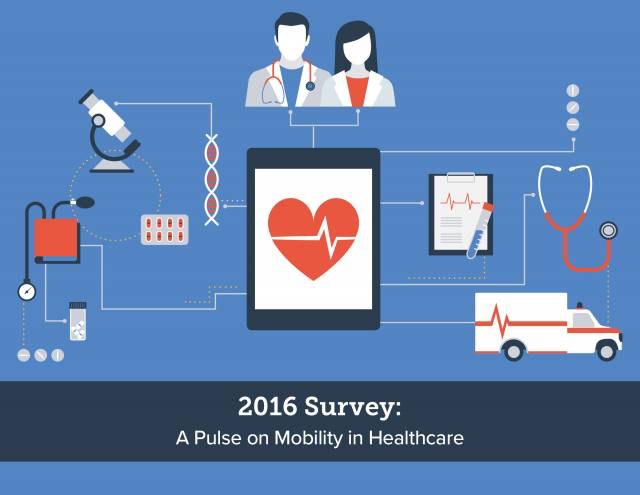 "Adoption of mobile devices like the iPad by hospitals and clinics is revolutionizing how providers offer care and interact with patients. But a key piece of the equation is implementing the right MDM solution and strategy," says Dave Alampi, vice president, product management and marketing, Jamf. "Combining mobile devices with a robust mobile device management technology, healthcare organizations can efficiently, consistently and securely deploy, manage and wipe devices."
The research highlights challenges around the implementation of mobile devices by healthcare organizations that haven't developed a robust MDM strategy. A total of 550 global IT decision makers within healthcare organizations of all sizes in the United States, United Kingdom, France, Germany and Australia were interviewed.
Per the report, 83% of organizations currently provide mobile devices (smartphones or tablets) to caregiving staff, including doctors and nurses. Thirty-two percent of survey respondents say they hope to expand mobile device use to patients receiving outpatient care over the next two years. But unease remains as those surveyed identified security (83%), data privacy (77%) and inappropriate employee use (49%) as top concerns in managing staff mobile devices.
While 84% say their organizations are compliant with HIPAA (Health Insurance Portability and Accountability Act), nearly half don't feel very confident in their organization's ability to quickly adapt to changing regulations. This lack of confidence doesn't bode well, given that 40% identify providing staff access to confidential medical patient records while on the move as the primary reason for their mobile device strategy in the first place.
A majority of organizations that either have, or plan to have an MDM solution cite time-savings (80%) and enhanced employee productivity (79%) as the biggest benefits of mobile device implementation. Positive impacts include easier access to patient data (63%), faster patient turnaround (51%) and enhanced security of medical records (48%). However, 27% of respondents from organizations with an MDM strategy in place say they don't feel very confident with their current solution.
To access a free copy of the "Pulse on Mobility in Healthcare" report, click here.