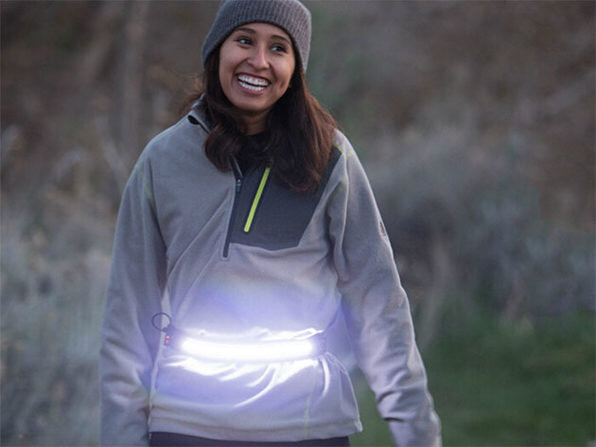 If you run or walk for exercise, or like to hike after dark, you're going to love today's deal on the H2 Belt Light ($41.99). Wear this ultra-bright LED light strip on your head or waist, and it illuminates a full 180° band in front of you. Unlike most running headlamps, the H2 doesn't cause the "bouncing light" effect that can be so distracting.
The H2 Belt Light is perfect for running or hiking outdoors, no matter what the weather is doing. The IPX7 waterproof light belt is built with a super-comfortable, high quality 1.5″ elastic belt. The low profile light illuminates a full 180° so you still have access to your full peripheral vision while on the move. Due to the unique design, there is no bouncing light effect – the kind you would experience while wearing a traditional single-beam light and running. Rather than a small focused beam that shifts up and down with every stride, the H2 light belt provides a consistent broad spectrum of light. After a long run, easily remove the light and battery back so that the belt can be washed as needed.
3 brightness settings: high, low, flash

360 lumens on high, 180 lumens on low

3-hour battery life on high, 7 hours on low

Lightweight at 6oz & 100% waterproof
Before you know it, we'll be back out of Daylight Saving Time and you'll be running, hiking and walking in the dark. Get your H2 Belt Light today.