First up, let me just say that this review of the Greenworks Pro 21 has nothing to do with Apple products or services — or any related third party products or services. However, with many folks working from home due to the COVID-19 pandemic and with growing concern about protecting our environment, it seems timely.
The Greenworks Pro 21 — which I bought at Lowe's for US$400 (yep, spent my own dough; no gratis review model involved) — is a battery-powered push (as opposed to riding) lawn mower. I've been considering such a device for years, but always found them to be underpowered or skimpy on battery life. That's been changing in recent years, and I've found the Greenworks Pro to be a powerful lawn mower with decent, if not great, battery life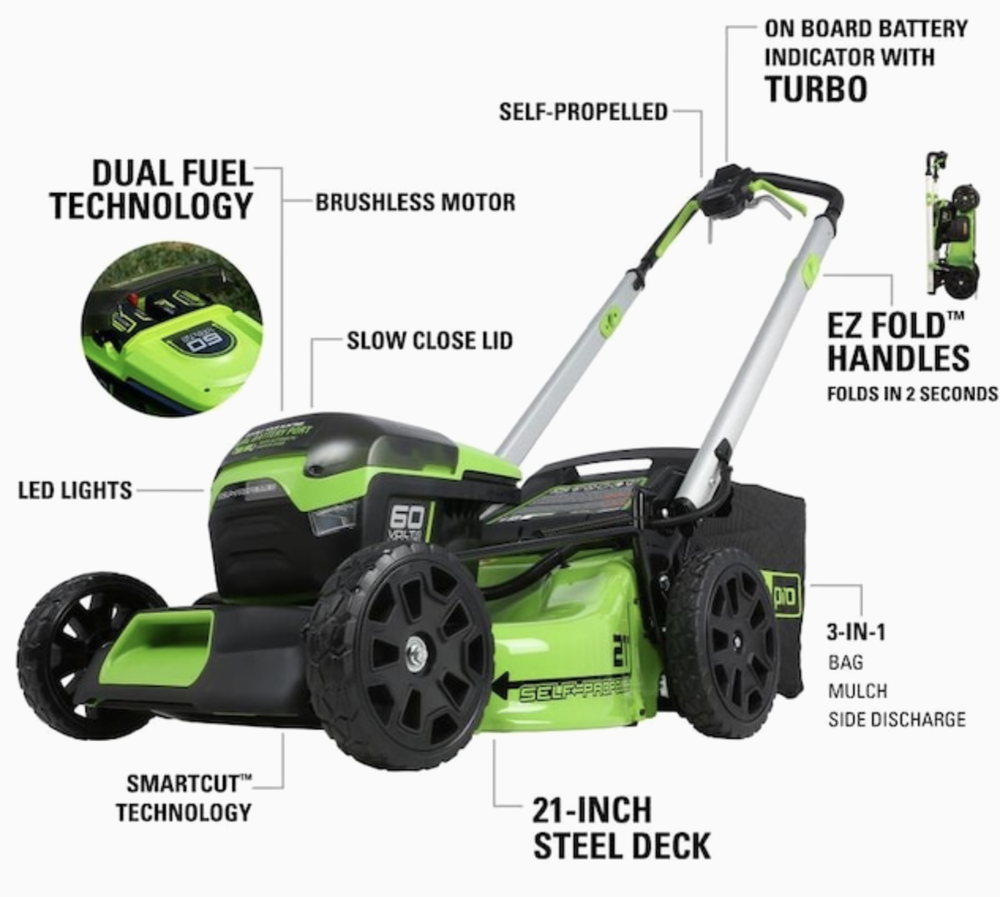 But first some background: why a battery powered lawnmower? Reason one: I want to "go green" in all aspects of life that I can. Reason two: I'm tired of fighting with a gas-powered mower. I've found that after about a year of use, they get ornery. Starting them involves a lot of cord yanking, starter fluid, and prayer (or, for some folks, cursing). To paraphrase Danny Glover's character in Lethal Weapon, "I'm getting too old for this stuff."
The Pro 21 is a self-propelled cordless push lawn mower that the folks at Greenworks says offers up to 50 minutes of runtime with a fully charged 5.0 Ah battery (tbe battery and charger included). Actually, I got 51 minutes of mine by not engaging the self-propelled system. This will give you a better workout if you're push mowing for exercise, but is also more tiring.
The Greenworks Pro has a dual battery system, so I bought a second battery (about $150) so I can mow my entire lawn with having to stop for a recharge.
Another feature I really like is the battery level gauge on the handle. It indicates which battery pack the mower currently draws from, and how much power each battery has at any given time. And it's a "quick charge" battery system. A fully depleted battery needs about 30 minutes to full recharge.
The Greenworks Pro has a 60-volt brushless motor with push-button start provides more power, torque and longer life without the hassle of gas. A brushless lawn mower is one where the motor can automatically adjust to the power needs of the job. The benefit is a mower that produces less heat, is quieter, and generates better performance. As I mowed by lawn, I could tell when the motor revved up in thick grass and revved down in thin, lower grass.
The seven-position, single-lever height adjustment allows you to adjust the blade height for a variety of mowing situations. With mine set to next to lowest position, the mower never choked out on even tall, thick grass — something that frequently occurs with my gas-powered mower.
What's more, the Pro 21 features a Turbo Mode, as well. If you hit really thick grass and the auto speed adjustment kicks the blade RPM up, but the mower still doesn't "know" to reach its max speed, the Turbo Mode acts like a manual override that tells the mower to engage its full cutting potential—regardless of efficiency.
The Greenworks Pro's 21-in steel cutting deck features a 3-in-1 design, allowing you to mulch, rear bag, or side discharge grass clippings. It comes with a bagger for collecting grass clippings, creating a tidy lawn as you mow. And it stores vertically, taking up less space in your garage or shed for added convenience.
The folks at Greenwork say that the Pro 21's "quiet operation eliminates the need for ear plugs, and allows you to have a conversation while you work." Well, you can carry on a conversation as you mow IF YOU YELL LOUDLY. And though considerably quieter than a gas-powered mower, I still wear earplugs to protect my hearing.
Let's talk price. Yep, I spent about $600 for the Greenworks Pro 21 and an extra battery, when I could have bought a new gas-powered model for half that. However, the battery-operated device comes with a four-year limited warranty and two-year battery warranty, which is a good deal. I'll also recuperate the difference in cost over that period by not having to buy gas.
Besides, it feels good to be able to do a little something to help Mother Earth. And the convenience of starting the mower by simply pushing a button is a time and headache-saving convenience that's, well, priceless.
Apple World Today Rating (out of 5 stars): ★★★★