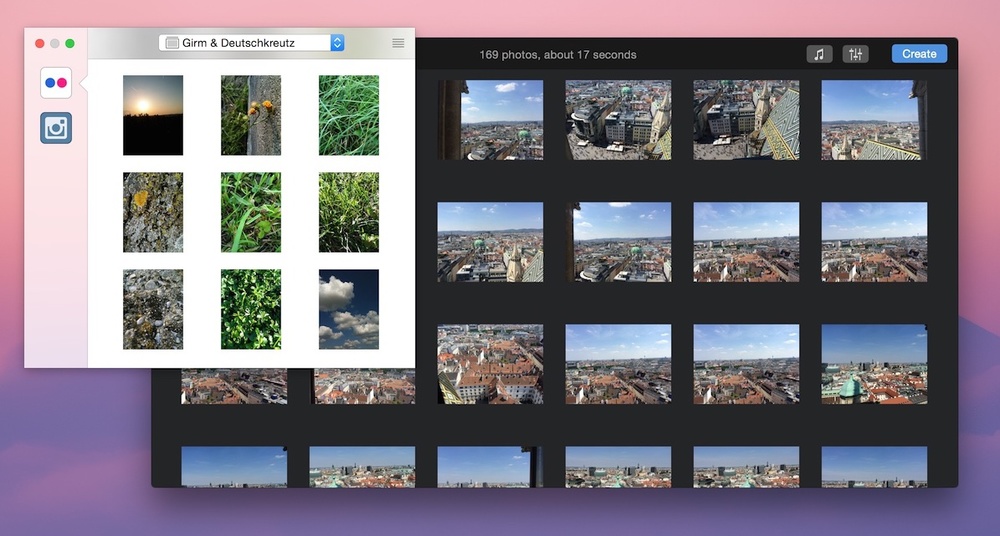 Glimpses ($9.99) from Eternal Storms Software lets you make photos slideshows, or "still motion videos," to share with family and friends. Simply add a few images, pop in a soundtrack, export and you're good to go.
I spent a few days with Glimpses and, while I can say it does in fact work, it left me uninspired. Don't get me wrong, there are some very nice features here. You can make an attractive slideshow with a lightweight, inexpensive app that's a breeze to learn. However, there are also some areas that could use work. What's good about Glimpses is very good; what's confusing is just that. Let's gets started and take a look.
Looks
Glimpses has a minimal look that lets you get right down to business. There's a small toolbar at the top of the main screen, and a large import button dead center. There isn't much to say here other than it's efficient and sparse, so let's move on to use.
Use
Images
As I said, Glimpses makes photo slideshows with music. The process starts with importing your images. Unfortunately, that's where the trouble starts, too.
The large, "Import Media…" button in the center of the screen is the logical place to start. Click it to open a dialog box that lets you navigate to the images on your computer that you'd like to use. Once you've found them, click Import and they're brought into the app.
The problem is that there's a much smaller import button in the toolbar without a label. It feels like this button can be safely ignored, yet it's the only way to import images from Flickr and Instagram. The main import button is so blatant in purpose that its smaller counterpart seems divorced from the process. If you ignore the smaller button, however, you won't know that integration with those other services exists.
The good news is that Flickr and Instagram integration work very well. Once you've authorized Glimpses to access each account, you can browse your collections. The app lets you navigate Flickr albums as well as tagged or untagged images in Instagram. To bring images into your project, just highlight them and then drag-and-drop the lot into Glimpses.
Imported photos are displayed as rather small thumbnails. Fortunately, you can pinch and zoom on your Mac's trackpad to adjust there size. Also, you can use Quick Look to see any image at full size, or double-click to open it in Preview. Lastly, you can re-arrange images with a drag and drop.
Six University security researchers from Indiana University, Georgia Tech and Peking University detailed several zero-day flaws in iOS and OS X that allow malicious attackers to bypass Apple security measures and gain access to sensitive information stored in other apps. The sandboxed malicious apps can steal data such as iCloud keychain passwords, Google Chrome web passwords and more without detection, reports The Register.
"Recently we discovered a set of surprising security vulnerabilities in Apple's Mac OS and iOS that allows a malicious app to gain unauthorised access to other apps' sensitive data such as passwords and tokens for iCloud, Mail app and all web passwords stored by Google Chrome," Xing told The Register's security desk.

"Our malicious apps successfully went through Apple's vetting process and was published on Apple's Mac App Store and iOS App Store.
The thirteen-page research paper details how cross-app communication services can be exploited to access data from apps such as 1Password, Evernote, Dropbox, Instagram, AnyDo, and others. Researcher Luyi Xing told The Register that he reported the vulnerability to Apple in October 2014 and has complied with company's requested six-month moratorium.
Our take on the news:
Security vulnerabilities in operating systems such as OS X and iOS are to be expected. How Apple responds to this threat is much more significant. The company was given six months to prepare, let's see what it will do now that this flaw has been exposed publicly.