By Frank Petrie
World Cup Air Hockey — available in free and US$0.99 versions at the Apple App Store for the iPhone, iPad, and iPod touch is a fine, fun virtual hockey game. It first allows you to pick the country that you represent and your opponents country. Once done, you then choose from three game modes: Practice, Tournament and Head-to-Head. Of these three, I find my self playing mainly practice as it's straightforward.
Your objective is to be the first player to score seven goals. Again, you can either confine your high scores to your device or put them out on the network and see how they measure up t others.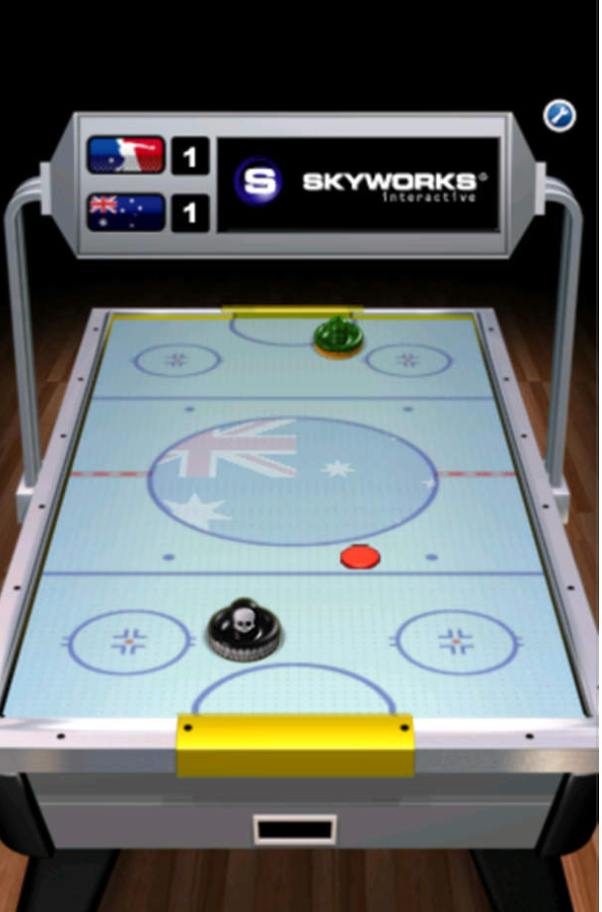 Head-to-Head mode mode lets you take on an opponent, a living one at that, and play each other on the same device. Your viewing angle is switched to an over-the-head mode, thereby allowing both players a good view of the action. Since we tend to play these games when we're waiting for the bus or some other solo activity, I can't imagine using this mode very much, perfect as it is. But then again, maybe you're more of a social animal.
Think of Tournament Mode as the Sweet Sixteen of virtual air hockey.
I was very happily surprised that I was, with a bit of practice, able to re-create the spin that I used to put on the puck in order to have it deflect off of my opponent's mallet and into the goal.
As always, you can customize the music by selecting from three different tracks.
If you're addicted to the actual game, your jaw will hit the floor when you experience this iApp. As the graphics are naturally up to Skyworks' unimaginable standards, but the dead on recreation of the actual experience is amazing. Practice mode will let you actually improve your game!
Again, Skyworks has set the benchmark for arcade games. I have found this true of all of their products that I have tested. I highly encourage you to visit their site and check out their catalogue. Skyworks, thank you for taking me back to the halcyon days of my 20's!
Now, the only thing left to complete the recreation is a cold bottle of Rolling Rock.