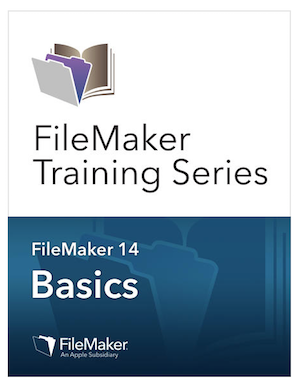 Knowledge is a great thing; becoming an expert about an application or supporting hardware has launched many a successful career. What's even better than knowledge? Gaining it for free, save for the effort expended in obtaining it. FileMaker has announced the free availability of the FileMaker Training Series: Basics for FileMaker 14 online and on the iBooks Store.
FTS Basics focuses on the skills that beginners need to create solutions that run on iPad, iPhone, Mac, Windows and the web. The 19-part training series is available as a set of PDF files covering everything (software not included) you'll need to hone those FileMaker skills:
FileMaker Platform Overview
Using Starter Solutions
Viewing and Working with Data
Finding and Sorting Records
User-Centered Design
Importing Data
Creating Fields and Tables
Relationships
Layouts
Layout Design Tools
Special Layout Objects
Formatting Field Objects
User Interface Best Practices
Calculations
Scripting
Reporting
Integration
Security
Deployment
Once you've covered the basics, there's a low-cost way to continue sharpening your skill set. The FileMaker Training Series: Advanced is available for $19.99 from the iBooks Store and the FileMaker Web Store to help you on the way to becoming a FileMaker Certified Developer. FTS: Advanced covers:
Module 1: Introduction

Module 2: Data

Module 3: Interface

Module 4: Solutions Logic: Calculations

Module 5: Solutions Logic: Scripting

Module 6: Reporting

Module 7: Security

Module 8: Deployment

Module 9: Integration
FileMaker is a powerful tool for creating cross-platform applications, and there always seems to be a shortage of trained consultants to take on the needs of small to medium sized businesses. Get some free or low-cost training from FileMaker and put yourself to work!