One of the complaints about Apple's Magic Keyboard for the iPad Pro (see my review here) — besides the price — is that there's no place to stash an Apple Pencil. Apple has been granted a patent (number 10,664,012) hints that this could change in future iterations of the keyboard.
In the patent data, the tech giant notes that users often pair different accessories with their electronic devices to add features and/or to customize their electronic devices. Besides adding functionalities to the electronic devices, accessories can be protective in nature or simply aesthetically pleasing adornments, or in some cases be both protective and ornamental in nature.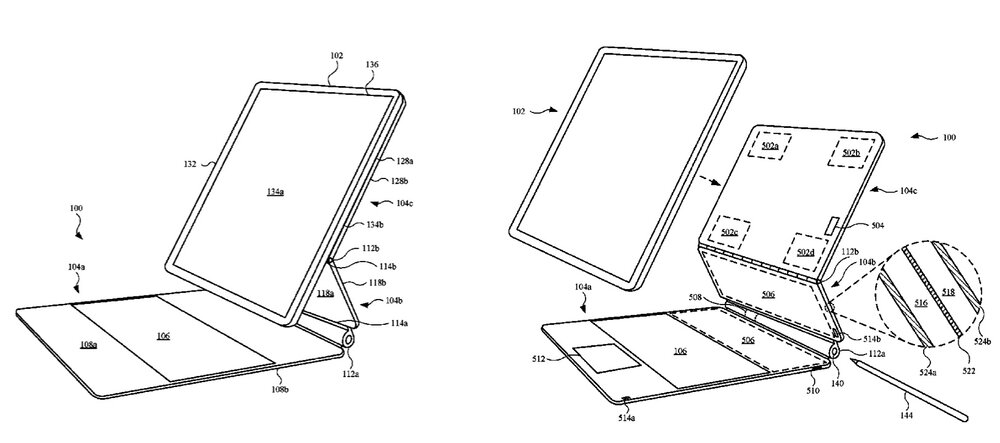 For example, accessories can be articles such as cases and/or folios. In some cases, while portable electronic devices are often equipped with touch screens, accessories can include input devices such as keyboards to provide additional input options to the users as well as to offer protection to the electronic devices.
Some of the accompanying drawings show a way to store a "digital pen." I wish Apple had thought of this for the first Magic Keyboard.
Here's the summary of the invention: "Accessory devices for portable electronic devices are described. An exemplary accessory device can include a first segment coupled to a second segment via a first hinge assembly. The accessory can include a third segment coupled to the second segment via a second hinge assembly such that the second segment is positioned between the first and third segments.
"The accessory device can be arranged between a closed configuration and a configuration of a stand that supports the portable electronic device at a viewing angle. At the support configuration, the second segment can be at an acute angle relative to the first segment to shift the center of gravity of the system towards the middle. The third segment can be suspended above the first segment and be inclined outwards. The hinge assemblies of the system can be sufficiently stiff to withstand the weight of the electronic device."