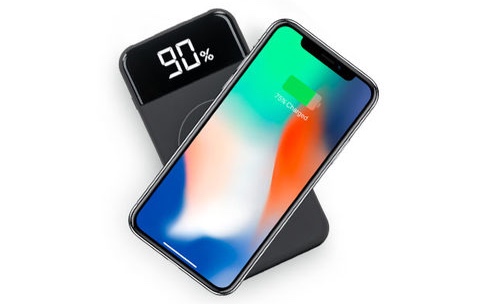 Admit it – now that you have a couple of Apple products that charge wirelessly, you would love for all of your devices to charge just by setting them on a Qi charger. Well, that may not happen for a while, but with the FuelBox Rover Qi Wireless Power Bank ($59), you can charge your Qi-enabled iPhone just by placing it on this sleek power bank, AND charge up to two other devices through USB at the same time.
Weighing just 6 ounces, the FuelBox Rover gives you a 1A wireless charging surface, a 1A USB port, and a 2.1A rapid charging USB port. A high-contrast LED screen tells you how much power is left in the Rover.
10,000 mAh rechargeable battery (40+ hours of power)
Glass LED screen lets you know how much power you have & when it's time to recharge

Works w/ nearly all phone cases (except metal or extremely thick cases)

Charge any Qi-enabled device wirelessly
FuelBox normally sells the Rover for $79.99. With this sale in the Apple World Today Deals Shop, you can take 26% off the top for a nice price of $59. Get one today!