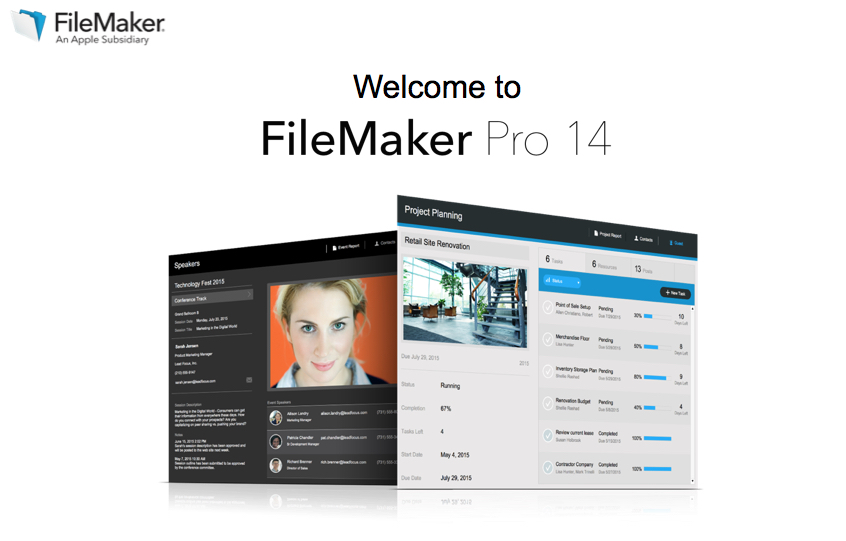 For most of us who have been around the Mac community since the beginning, the first name that comes to mind when we think of database applications is FileMaker Pro. The app first came out in 1985, and it was a flat-file database app that really showed off the power of the Mac's graphical user interface. 30 years later, FileMaker has just taken the wraps off of the latest incarnation of the platform, FileMaker Pro 14.
The original database program has evolved from a single-user flat-file database to a powerful, programmable relational database management system complete with a server component for workgroups and an iOS app known as FileMaker Go.
The newly updated platform takes advantage of mobility by allowing users and developers to create business processes that can be accessed from mobile devices, desktops, and from web browsers. The FileMaker Go 14 app gained a new interface that finally allows the screen orientation to be locked, enhanced signature capture (for having clients sign forms), control of audio and video playback, and more.
FileMaker Pro 14 and FileMaker Pro 14 Advanced have design tools that both professional developers and business users can use to create professional-looking solutions for all devices, even if they've never designed a solution before. The company has also redesigned FileMaker WebDirect to provide the same type of interactivity experienced on the desktop app to desktop and tablet web browsers.
Also added is a new Launch Center providing an app-like interface with big buttons. This allows users to organize solutions and personalize the look, then launch a solution with a click or tap. Launch Center runs on the entire platform, including FileMaker Pro 14 on Mac and Windows, FileMaker Go on iPad and iPhone, and in web browsers with FileMaker WebDirect.
Apple World Today will have a full hands-on review of FileMaker Pro 14 and FileMaker Go 14 soon.