eMarketer has released data on UK and U.S. market share for the iPhone and iPad, along with usage of Apple TV. Here's what the research group found:
Apple's share of smartphone users in the U.S. will remain basically static in 2019, accounting for a 45.2% share. Android, by comparison, will account for 53.4% of US smartphone usage. eMarketer expects Android to dominate smartphone usage through 2021.
The number of U.S. iPad users remains stagnant — 79.7 million this year. In 2019, Apple's share of the tablet market will be 45.6%, down from 46.3% last year.
In 2019, eMarketer estimates that nearly 53% of Americans will use a tablet at least once a month, totaling 174.7million people.
In the UK, Apple is expected to account for nearly 42% of smartphone users this year (19.2 million), a slight increase from 40.5% last year. eMarketer estimates Android will account for 55.7% of UK smartphone users this year (25.6 million), slightly higher than last year at 55.3%.
eMarketer expects there to be 19.0 million iPad users in the UK in 2019, up nealry 2% over last year. iPad users account for 50.9% of UK tablet users.
This year, eMarketer estimates 37.3 million people in the UK will use a tablet at least once per month, nearly 56% of the population.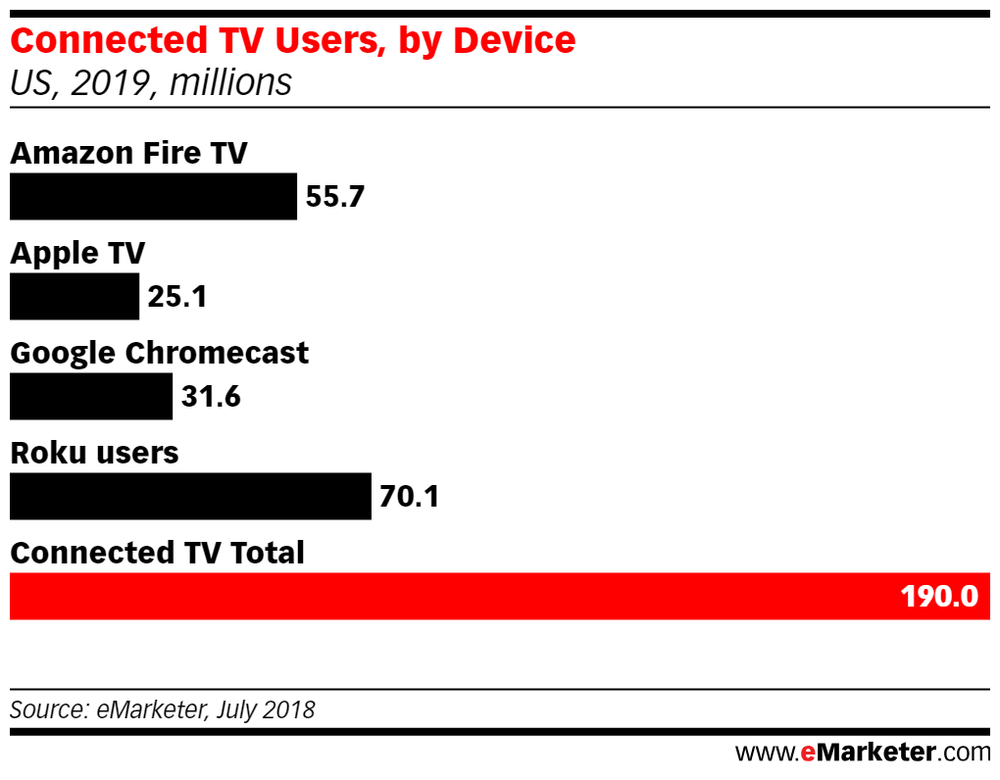 The Apple TV is at the bottom of the U.S. connected TV market, behind Roku, Amazon Fire, and Google Chromecast. This year, 25.1 million Americans will use an Apple TV device, or 13.2% of connected TV users.
eMarketer's forecasts and estimates are based on an analysis of quantitative and qualitative data from research firms, government agencies, media firms and public companies, plus interviews with top executives at publishers, ad buyers and agencies.