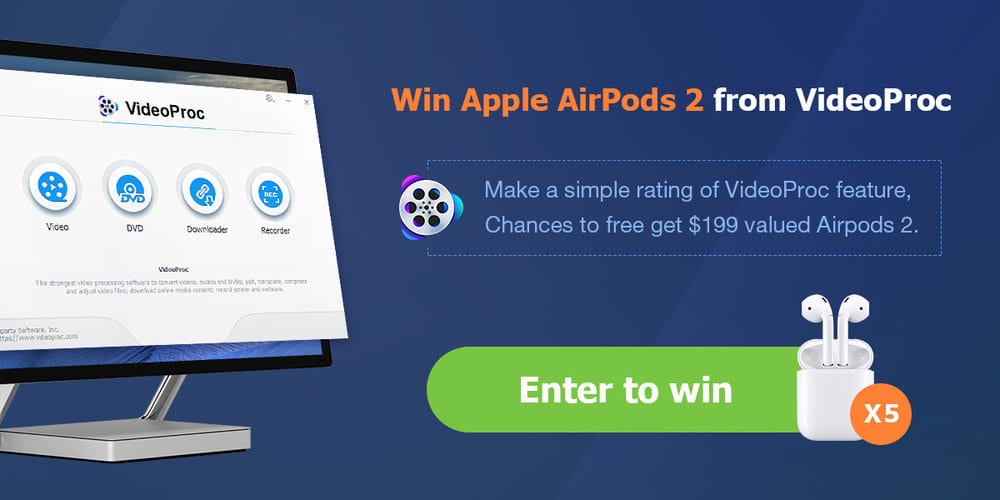 Did you miss our last VideoProc giveaway about five months ago? Well, there's good news! Today we're going to show you how to get VideoProc — a powerful 4K video editing app for Mac and Windows — for free, and have a chance to win one of five pairs of Apple AirPods 2.
Just download a free copy of VideoProc 3.3 and activate the license code before July 15, 2019. Give VideoProc a try, then rate its features and submit a valid email address to be entered. Five winners will be announced on July 15, 2019 and will each receive a pair of new AirPods 2 valued at $199.
Why Choose VideoProc Over Competitive Apps?
Why does the Apple World Today team choose VideoProc over competing apps like iMovie, Final Cut Pro X, DaVinci Resolve Studio, or Adobe Premiere Pro? It's simple — VideoProc is free to try, inexpensive to buy, easy for anyone to use, and up to 47X faster than realtime thanks to built-in GPU acceleration.
Whatever you need to do with HD and 4K video from any source — your iPhone, GoPro, drone or even online video — VideoProc can do it. Cut sequences and arrange them in a different sequence, merge video from different sources, crop out unwanted distractions, add subtitles or effects, and even rotate video.
Take a Closer Look At VideoProc In Action
After a fast download and easy installation process, VideoProc is ready to go. The first thing you'll see is the incredibly easy-to-use interface of the app: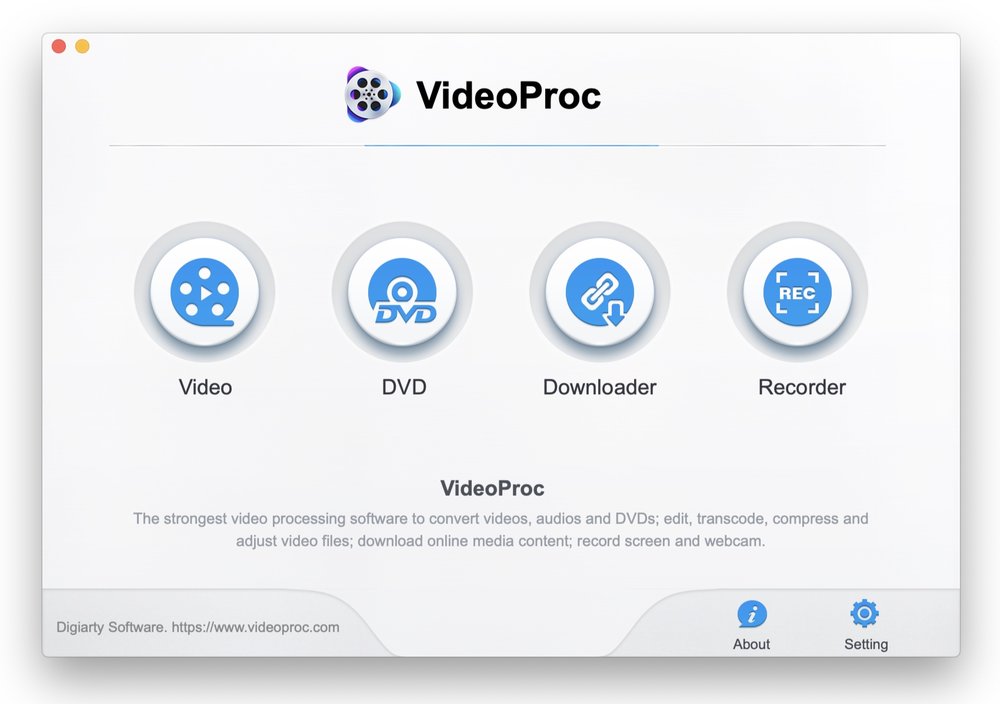 Those four buttons are your gateway to four different capabilities:
Video processing, converting video, audio and DVD,; editing, transcoding, compressing and adjusting files

Backing up and converting DVDs to files that can be played on any device

Downloading ultra-high quality video from thousands of online sources

Recording screen videos, capturing livestreams or gameplay, then saving it all in MOV format for upload to YouTube or other sites
One of the most creative uses of VideoProc is in enhancing the quality of videos. The easiest way is to select the codec (compressor/decompressor) and resolution desired, then just drag the quality slider to get better quality (more space required) or lower quality to decrease file size.
I was able to take a HD quality (1920 x 1080) video shot with my iPhone XS Max and upscale it to 4K in seconds using VideoProc, simply by choosing 4K resolution and sliding the quality slider to High Quality: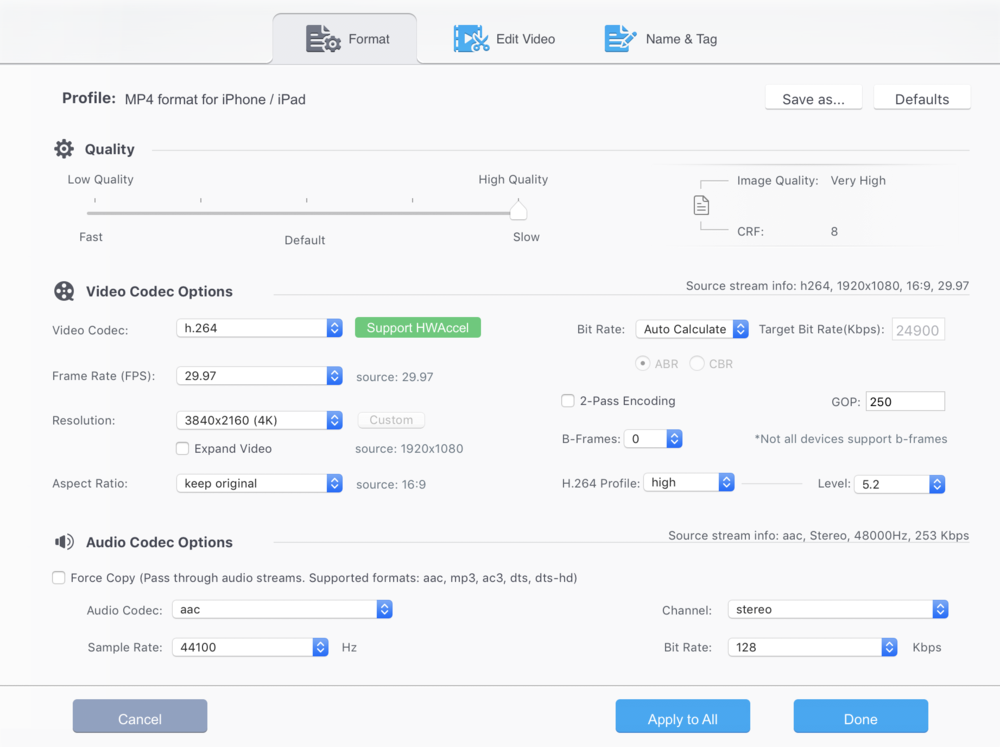 Next, I grabbed some 16:9 video that I took of a grizzly bear walking in the woods of Canada. In that video, the bear seemed small and faraway, but with VideoProc I was able to crop the video to 4:3 and zoom in on the bear. Total time required to process the video? About 5 seconds , thanks to VideoProc's full GPU acceleration.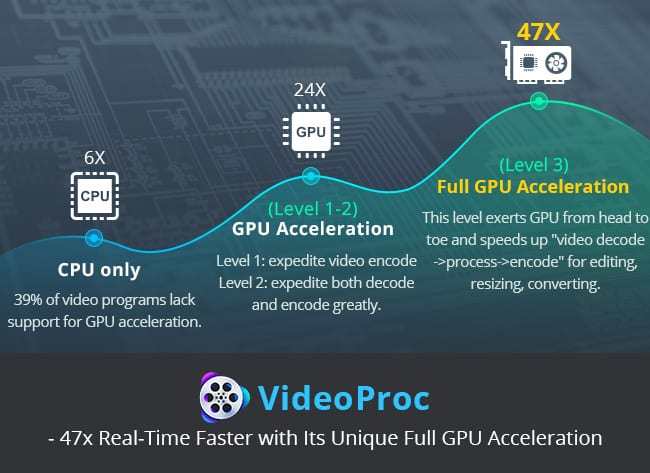 Other Practical Uses for VideoProc
Converting videos
I've been ripping and converting my DVD library to digital formats, which becomes a fast and simple task using VideoProc. Of course you'll need an external SuperDisk to read the DVD, but then you just select a target format to save the file into and press the big blue Run button to start the conversion.
In this case, a nearly two hour movie was converted to a digital file in 13 minutes. If you haven't watched old DVDs because they don't play on your digital devices like iPhone, iPad, or Apple TV, now's the time to get VideoProc and convert those movies.
Downloading Videos
Have favorite videos that you'd like to download from legal sources? VideoProc makes the process simple with a list of over 1,000 free online video sites. Select the videos from your favorite legal site, then download and convert them to a format usable on any device with just one click.
Record screens or streaming video
Are you an educator? Perhaps you're a lover of streaming sports or games, or you love watching what friends are live-streaming on social media. VideoProc is a powerful tool for recording what's on your screen, whether it is gameplay, a presentation, a webinar, or a Skype or FaceTime call.
Once you've recorded video from your Mac or Windows PC, it's easy to use VideoProc's toolset to create screencasts, video podcasts, software reviews, and more.
VideoProc gives you three recording modes: to work with:
Record your desktop or iOS screen with voiceover

Record from a webcam

Record BOTH at the same time using picture-in-picture mode.
Don't need to capture the complete screen? Just crop to select an area you'd like to record. While recording, you can draw on your video, highlight content, add text or images, and more.
The Verdict Is In: VideoProc Rocks!
The blogging team here at Apple World Today finds VideoProc to be the best, easiest-to-use, and fastest video editing and processing tool available, and at a price that anyone can afford. Download the free trial of VideoProc 3.3, and don't forget to enter the giveaway for a chance to win one of five pairs of Apple AirPods 2.
Want more proof of just how easy it is to use VideoProc? Point your favorite web browser here for a full online user guide that shows you use to all of the powerful features of VideoProc.