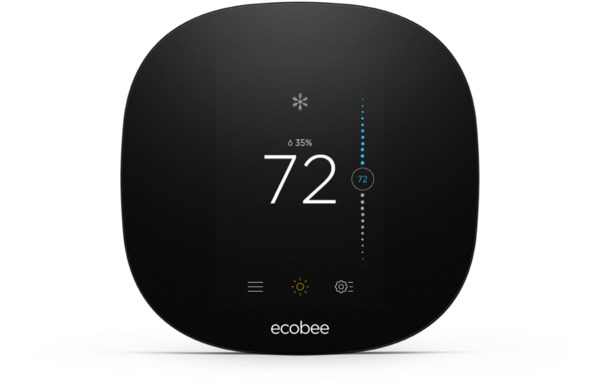 For those interested in home automation, the Ecobee3 has been an attractive HomeKit-compatible smart thermostat alternative to the non-compatible Nest Thermostat. But there's been one barrier to entry — the price. Today, Ecobee launched the Ecobee3 Lite for just $169, an $80 cut on the price of the "full-fledged" model.
So what can't the Ecobee3 Lite do that its more expensive sibling can do? Ecobee pulled out room sensors, so the new device can't detect whether a room is occupied or not. It's also lacking the accessory compatibility of the Ecobee3, which means that connecting humidifiers, dehumidifiers, and ventilators is out of the question.
Other than that, though, the unit is pretty much the same — it comes with a 3.5-inch color touchscreen and is compatible with Apple HomeKit, Amazon Echo, Wink, Samsung SmartThings, and IFTTT. There are also apps for iOS, Apple Watch, and Android for controlling temperature. Like the Ecobee3, the Ecobee3 Lite can use hardwired power instead of batteries.
The new smart thermostat will ship on Halloween (October 31) and online buyers can get it from Amazon, Best Buy, Home Depot and Ecobee. Pre-orders are open at both the Ecobee and Best Buy websites.