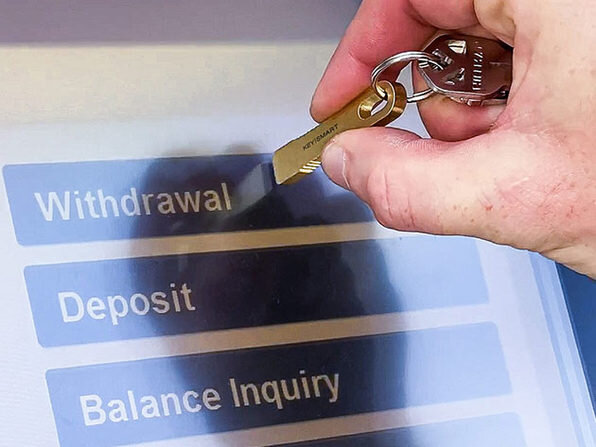 You're social distancing, wearing your mask, even paying with Apple Pay…but the retailer wants you to scrawl your name on a point of sale system screen. Do you really want to touch a screen on an ATM that hundreds of people have used? The CleanKey antimicrobial stylus from the brains at SmartKey was developed with the current pandemic in mind, and a two-pack is available for only $16.99.
Joining the fight against COVID-19, KeySmart created products that offer protection and convenience in these uncertain times, including the downsized CleanKey Mini! Specially designed to limit germ exposure and transmission, CleanKey works as a handy keychain you can bring anywhere, anytime to press buttons on elevators, ATMs, and other machines. No more direct contact with contaminated surfaces! With 60% Copper content, CleankKey Mini is inherently antimicrobial, killing or slowing down the spread of microorganisms including bacteria, viruses, protozoans, and fungi. It comes with a retractable carabiner so you can attach it to your daily stuff. Maximum protection with maximum portability!
Ergonomic design makes it easy to press buttons & tap screens

Antimicrobial Copper Alloy kills germs up to 99% of germs

Reduces point-of-contact area by over 99%

Easy to carry on your keychain or inside your KeySmart key organizer

Easy to clean w/ steel wool or disinfectant wipe
Note: The use of a Copper Alloy surface is a supplement to and not a substitute for standard infection control practices; users must continue to follow all current infection control practices, including those practices related to cleaning and disinfection of environmental surfaces.