While home automation companies have been selling connected door locks for some time now, that hasn't done a whole heck of a lot for other things that you might need to lock up; things like bicycles, tool sheds and boxes, or gates. Australia-based Dog & Bone has just introduced the LockSmart Keyless Bluetooth Padlock (US$89.95), and it's just the thing for keeping the valuables in your life under lock and virtual key.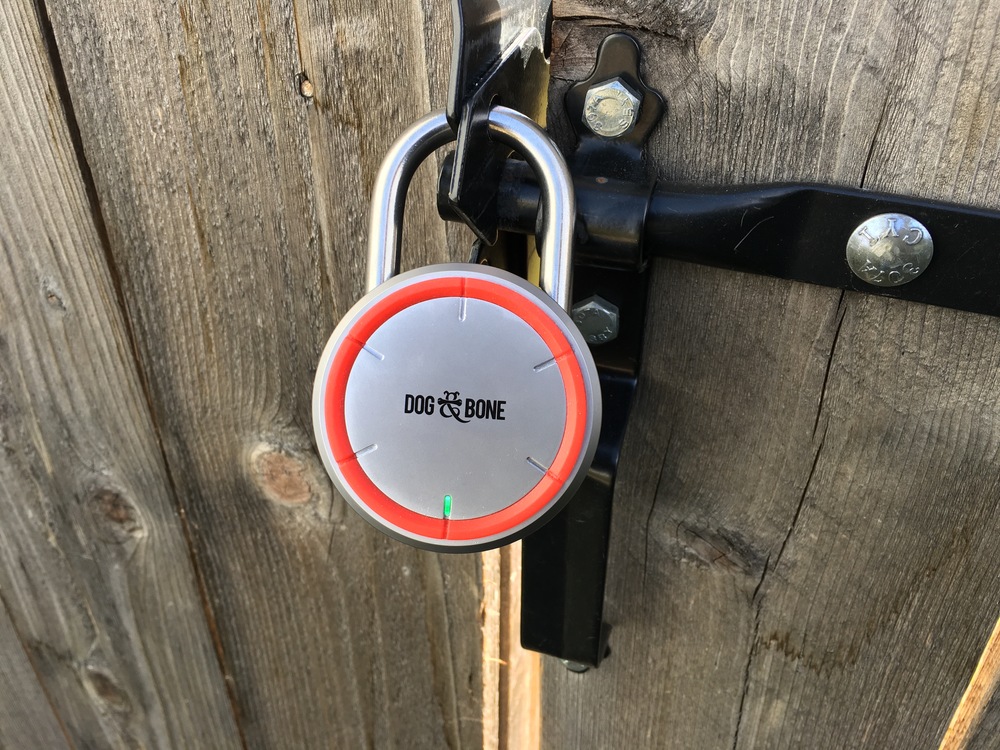 Design
Dog & Bone has won quite a few design awards for its line of protective iPhone cases and Qi wireless charging cases for the iPhone. Now it's jumping into the home automation space with a splash. The LockSmart padlock looks like a … padlock. There's really nothing super different on the outside of the padlock to tell you that it has some amazing smarts built into it.
There's a red silicone bumper around both sides of the LockSmart, and a matching red "hatch" on the bottom. Flipping up the hatch reveals a switch mechanism and a micro-USB charging port. The LockSmart's battery will last for 2 years or up to 3,000 open cycles, and the app you'll use to unlock it will warn you when it's time to top off the battery.
You don't need to worry much about weather affecting the lock, either — it's waterproof, and has been designed to work flawlessly in temperatures ranging from -20 to +70°C (-4 to 158°F). However, this seems to have been designed for the Australian climate, as it's quite common for North American and European temperatures to get into the subzero levels in winter. I'll have to test the LockSmart whenever it gets below -4°F and see if it still works! If you're in an area where it often gets quite cold, you may want to just use the LockSmart inside.
Function
Using the free LockSmart app is a piece of cake. You set up a free account that makes it easy to share electronic keys with others, then tap a "New Lock" button to begin the setup. Pressing the little red door on the bottom of the lock wakes it up and makes it available for pairing, which is done in seconds.
The app can be set up to unlock the LockSmart using Touch ID, which is quite cool — tap a button for the lock you wish to open, place your finger on the home button, and the lock clicks open. One wish is that the company decides to update the LockSmart app with a Notification Center widget or — even better — an Apple Watch app. Unlocking a padlock with your watch? Priceless.
Of course, having a lock on something means that occasionally you might need to share a key. That's where the magic of LockSmart comes in. Rather than having to physically meet up with someone to hand them a key, you just share a key via a text message. Unfortunately, the method is kind of clunky — the recipient has to install the LockSmart app on their own device in order to be able to receive the key and unlock the device, and most people that I'd want to share a key with are too busy to want to have to spend the time to do this. Hopefully the Dog & Bone team can figure out a way to send an "applet" of some sort to the recipient that would work without them having to install an app.
I have to hand it to the Dog & Bone team for beating a competing product to the punch. I backed the Nokē Bluetooth Padlock project on Kickstarter in August of 2014, and that group just finally started shipping product… although I may not get mine for another month or so.
Conclusion
The Dog & Bone LockSmart Bluetooth Padlock is a surprisingly useful and well-designed product. The iOS app could use some improvements so the lock could be unlocked from the Lock Screen or Apple Watch, and the need for sharing recipients to download an app is kind of annoying. But all in all, I'd say the company has a winner product on its hands.
Apple World Today Rating (out of 5 stars): ★★★★