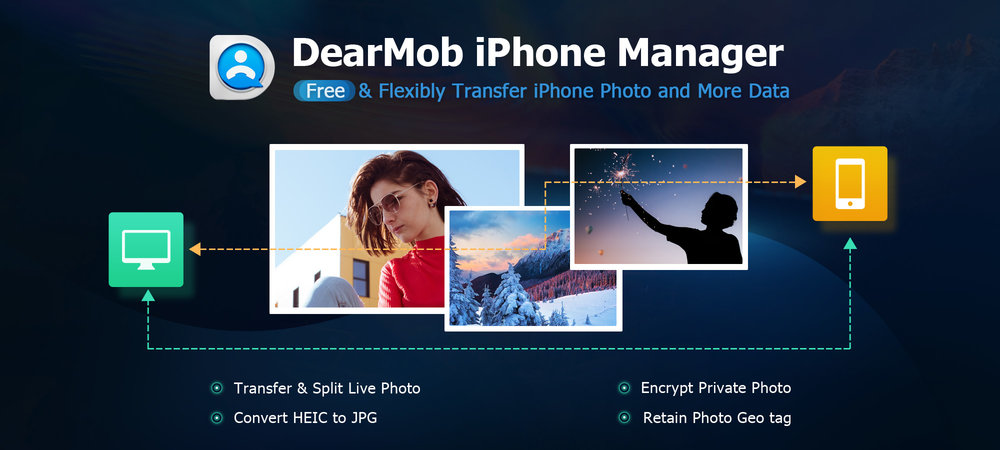 Managing photos and data from your iPhone on a Mac or Windows computer just got a lot easier with DearMob iPhone Manager. If you've ever struggled with iTunes to transfer videos and photo to your Mac, back up iPhone data, do two-way transfers of information, and more, we have a solution.
What Does DearMob iPhone Manager Do?
DearMob iPhone Manager is the easiest way to back up iPhone photos, music, videos, contacts, voice memos, calendars, books, browser bookmarks, messages, apps and more to your Mac or Windows computer. It works with many current and past-generation iPhones and iPads, making it your one-stop data transfer tool for iOS.
Just launch DearMob iPhone Manager and this clear, intuitive user interface appears: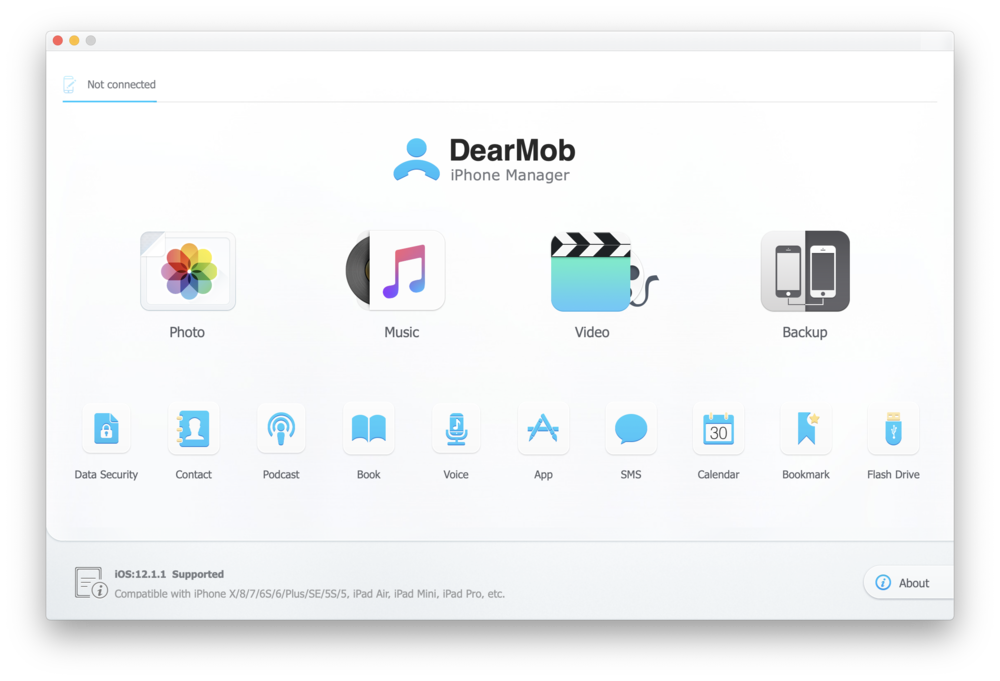 Attach your favorite iOS device to your Mac with a Lightning cable, and you're instantly ready to transfer data or backup your device. DearMob iPhone Manager doesn't just grab your data and throw it onto your Mac without security. You can now rest assured that your video, photos and data are completely encrypted in transit and when stored on your Mac, a computer-attached DAS or NAS, or uploading to the cloud.
DearMob iPhone Manager uses multiple encryption algorithms to ensure your data is safe, including 1024-bit RSA, 256-bit AES, PBKDF2 and Argon 2. No other iOS data transfer and backup app offers this level of security. Read more about the high level of security provided by DearMob iPhone Manager.
If you've ever wanted to make custom ringtones for your iPhone, DearMob iPhone Manager can do that for you as well. Want to use your iPhone as a flash drive for your important documents? Simply use the app's Flash Drive feature to store any kind of file — Word, Pages, PDF, PowerPoint, etc… — with full options to create folders, and export, modify and delete files.
Why Is DearMob iPhone Manager The Best Way To Transfer Photos?
If you don't store your photos and videos using Apple's pricey iCloud plans, you need a way to transfer that information back and forth between your iOS device and your computer. DearMob iPhone Manager makes it simple to transfer photos both ways between your devices.
You can select all of your photos for transfer, or be more selective — the app can transfer by album, by date or even transfer just those photos that you pick randomly.
Recent versions of iOS and macOS support a new photo format called HEIC, and DearMob iPhone Manager supports conversion of your photos from HEIC to JPG format so that those photos are easily viewable anywhere.
Unlike some methods of transferring photos from your iOS devices to a computer, DearMob iPhone Manager retains all EXIF photo metadata during transfer. This data includes items like the camera and lens used to take the photo, the time and date the photo was captured, and a geotag — the exact location where the photo was taken.
See Just How Easy It Is To Use DearMob iPhone Manager
Don't take our word for it; check out the video below for a full tutorial on how to back up iPhone photos to your Mac without using iTunes.
There's an even better way to find out how powerful and easy DearMob iPhone Manager is — download a free copy and try it yourself!
<!— code from sekindo - Appleworld.today In-Article - outstream —>

<!— code from sekindo —>
No iTunes or Any Other Apple Service Required
There are many iPhone and iPad users who find iTunes complex to use, easy to crash and quite picky about working properly with iOS and computer operating systems. DearMob iPhone Manager is perfect for those people.
Backing up an iPhone using Apple's methods requires use of the iTunes application on Mac or Windows, or backing up to the cloud using Apple's iCloud service. DearMob iPhone Manager bypasses those methods, providing a completely secure backup and file transfer service outside of the Apple ecosystem.
Get A Discount On The Full Lifetime Version
Once you've had a chance to use the free giveaway version of DearMob iPhone Manager, you'll find just how useful the app can be. Want to use it for many years to come? Get a lifetime license for two Macs for $47.95; that's 30% off the regular price.