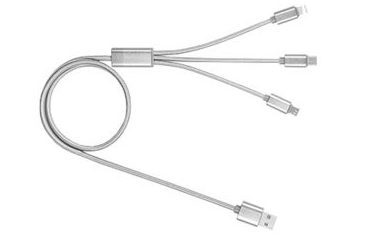 The last time we had a sale on these 3-in-1 cables, they flew off the shelves. They're back in stock and we've got 'em for as little as $9.99 each. The 3-in-1 USB-C / Lightning / micro-USB cables feature a standard USB connector on one end and a "three-headed" connector on the other end with a USB-C connector, Lightning connector and micro-USB connector. 
At 3.3 feet (1 m) in length, these cables come in either grey or gold and in packages of 1, 2 or 3 cables. Buy a 3-pack for $21.99, and you're getting each cable for just $7.33! 
No longer will you need to carry around three different cables for your different devices. With the 3-in-1 cable, you'll be able to charge an iPhone or iPad, an Android device or camera, even a MacBook! Reduce clutter in your computer bag with these innovative cables.