Crowdfense, a startup company based in the United Arab Emirates is offering up to $3 million for anyone who can offer a zero-day exploit on macOS, iOS, Android or Windows. It's the highest public price offered for such tools.
"We work only with the best vulnerability researchers, focusing on very select capabilities with a highly structured and scientific approach," Crowdfense director Andrea Zapparoli Manzoni said in a press release. "Now that this originally underground practice has become a strategic high-tech industry, it is necessary to implement good business processes, checks and guarantees for all the parties involved. That is why we built Crowdfense: the market needed a neutral, reliable, law-abiding, process-driven partner to deliver top-quality active cyber-defense capabilities."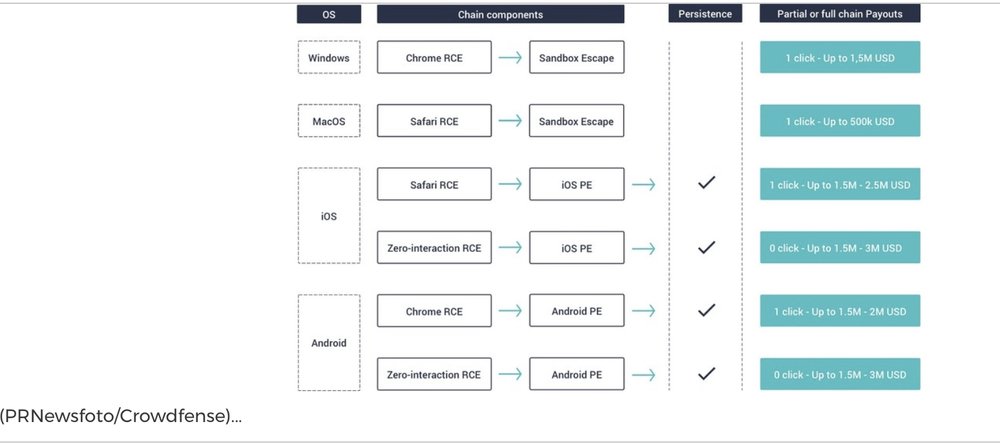 Payouts for full-chain, previously unreported, exclusive capabilities range from $500,000 to $3 million per successful submission. Partial chains will be evaluated on a case-by-case basis and priced proportionally, according to Manzoni. Within this program, Crowdfense evaluates only fully functional, top-quality 0-day exploits.
The first researcher to submit indisputable proof of a fully working chain within the scope of our public Bug Bounty program will receive a 10% bonus on his/her payout (if Crowdfense decides to buy). For a working partial chain, the bonus will be 5%, calculated on the agreed payout.
---
Like this article? Consider supporting Apple World Today with a $5 monthly Team AWT membership.