I'm usually dubious when I get PR emails touting wireless earbuds that are considered to be competitors to Apple's AirPods, especially when the manufacturer is using crowdfunding. But after seeing how the crazybaby Air earbud campaign raised almost $2.8 million on Indiegogo and then testing them, I'm convinced that these earbuds are a solid competitor to the AirPods. They'll be available this fall for US$169 on Amazon and the crazybaby website.
Design
While having a design sense all its own, the crazybaby Air follows the example of Apple in many ways. The Air's box opens like an Apple box — hold the box by the top and the lower part slides slowly out. Once the box is opened, you see the Air charger and case nestled in the top, looking like the world's largest pill. Underneath the Air are little boxes containing instructions (complete with crazybaby sticker), silicone tips and "sports sleeves", and the USB to USB-C cable used to recharge the battery in the charging case. All in all, the unboxing is a very "Apple-like" experience!
The "pill" is a little over 5 inches (about 12.7cm) long with a USB-C port in one end. Rotate one end a tiny bit to unlock it, and a tray slides out containing both earbuds. My review 'buds were black; the company also shows white as an option. While charging, a small area in the center of each earbud glows red (on the white set, it glows light blue). As with the AirPods, each EarPods fits only into its own charging notch. I found the Air earbuds to be easier to remove from their charging case than AirPods.
Electronically, crazybaby chose some of the top available components with which to make these earbuds. These are the first earbuds to use a carbon nanotube diaphragm, creating a speaker driver that is durable and capable of reaching a wider audio range than Apple's AirPods (8Hz to 24,000Hz compared to 20Hz to 20,000Hz). A companion app provides users with an equalizer for setting a sound profile that's tailored for their personal preference.
The size and shape of the charging capsule is…interesting. I can see where in the future, someone might ask a guy carrying Air earbuds and the charger in the front pocket of a tight pair of jeans "Are you using crazybaby Air earbuds, or are you just happy to see me?" Yeah, the charging case is a bit phallic if you catch my drift.
crazybaby mentions a clear silicone "leash" that will hold the Air earbuds together for extra security, but it was not to be found in the packaging so it may be something the company is planning on selling as an "extra". The "sports sleeves" are silicone sleeves of various thicknesses that go over the outside of the earbuds to provide a bit more friction to hold them in under extreme conditions. Three sizes are included (S, M, L) to make them fit just about any size ear.
The Air earbuds are IPX6 rated, meaning that they can put up with splashes of water but are not truly waterproof. Likewise, you won't want to dunk the charging capsule, although it looks as if it would be equally at home in the deep sea or in Earth orbit.
Function
After charging, I placed the earbuds in my ears to determine the best fit of the three sizes of silicone tips. It turns out that the default tips were perfect for my ears, so I kept the others for future use.
The "Quick Start" guide was a bit misleading in terms of the pairing instructions. It basically said to turn on the Airs and then pair. It wasn't that simple; I had to go to the crazybaby website to find the actual process, which includes "double tapping" each earbud to get it into a pairing mode. It took me a bit of time to figure out that they weren't talking about actually tapping on the earbuds, but pushing the button on each twice in quick succession.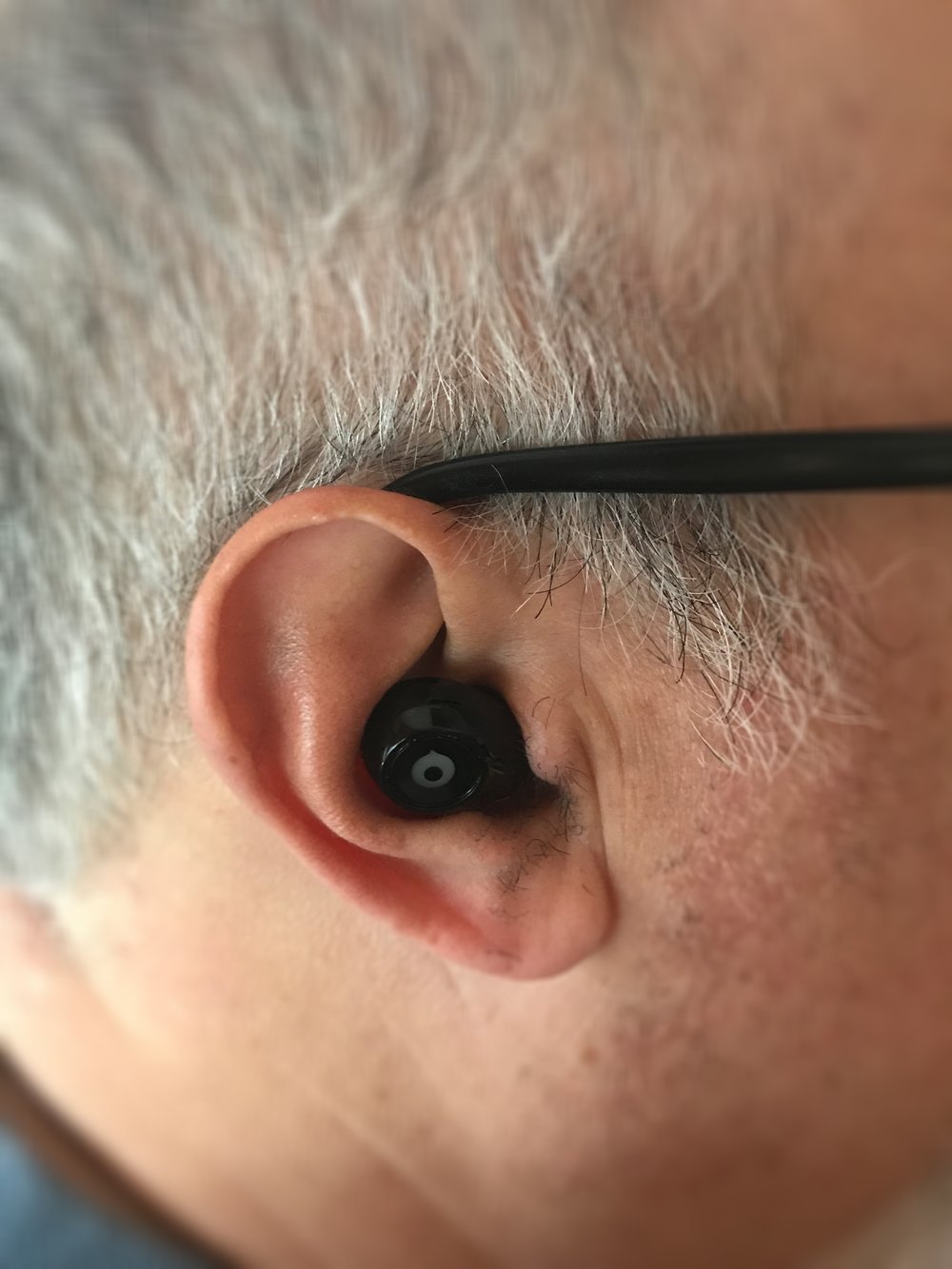 The website instructions were clear…but it took some thinking to figure out that MFB meant "multi-function button". Hint to the crazybaby support people – NEVER use acronyms and assume that people know what they mean.
Once that was figured out, pairing was fast. The Airs are quite comfortable, and there is none of the "Oh, no – they're going to fall out of my ears" feeling that I initially had with Apple's AirPods. They stay in your ear, and I'd say that for runners or those who want to use their buds in active situations, these would be much more likely to stay put than AirPods. Each bud weighs just 4.5 grams, or about .16 ounce.
The sound quality is…well, incredibly good. Unlike the AirPods, the tight seal of the silicone tip in your ear means that you don't get as much ambient sound leaking in, so you are immersed in sound. Of course, if you're wearing the Air buds outside, you might end up getting so engrossed in the sound that you don't hear that bus that's bearing down on you…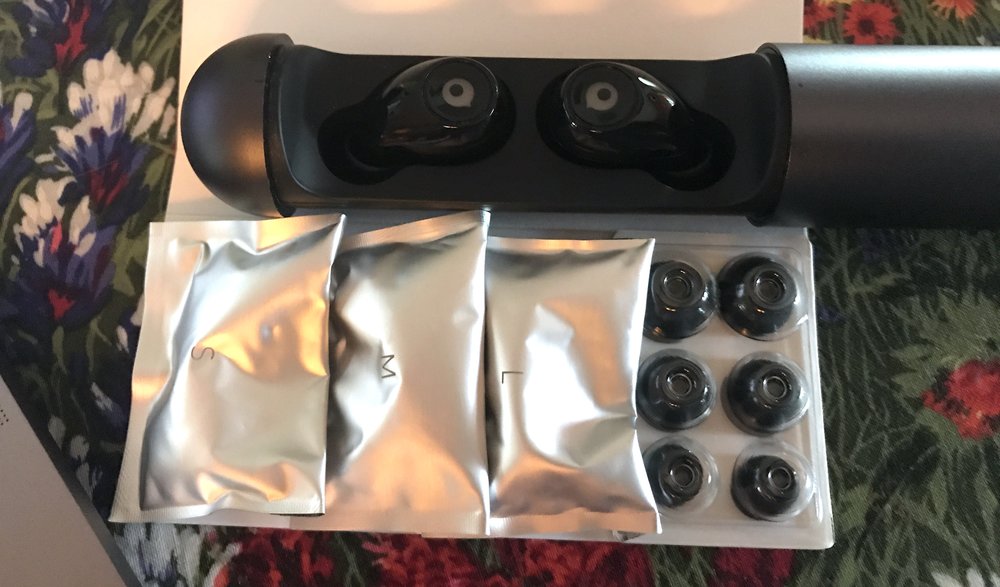 I can't fully describe the listening experience with the Air earbuds. I found that there were some nuances to songs that I've heard a million times, things that were just missed with other earphones and earbuds. All music I listened to, regardless of genre, recording quality, or volume, sounded crisper and "brighter" than I've heard from other earbuds and earphones.
I was able to listen to music for about three hours straight with the Airs. Although I didn't test it, crazybaby claims 4 hours of phone talk time with the Air earbuds. With the charging case fully charged up, the buds are good for about 15 hours of listening or 20 hours of talk time.
The microphone in the Air earbuds is as good as it gets. I'd say the sound quality is better than that of the AirPods with their vaunted "beam forming mic". crazybaby refers to this as a "CVC 8TH Noise Isolation Technology +Double digital silicon microphone" which means nothing to me…but it does a great job of canceling outside noise and making it easy for the other party to listen to you.
Conclusion
Shipping later this fall, crazybaby's Air earbuds sound great, look fantastic, and have all of the quality and panache you'd expect from an Apple product. They're $10 more expensive than the $159 AirPods, and crazybaby's online support is superb. Just be aware that the Quick Start instructions that come with the earbuds are not sufficient to get you paired to the device of your choice; the manufacturer should really update that brochure with the full procedure.
Apple World Today Rating (out of 5 stars): ★★★★