Recently, I wanted to download a YouTube video of my granddaughter, Elizabeth, dancing. If you've tried something like this, you know it's a pain in the patootie. Then I found the free ClipGrab app, and life was good.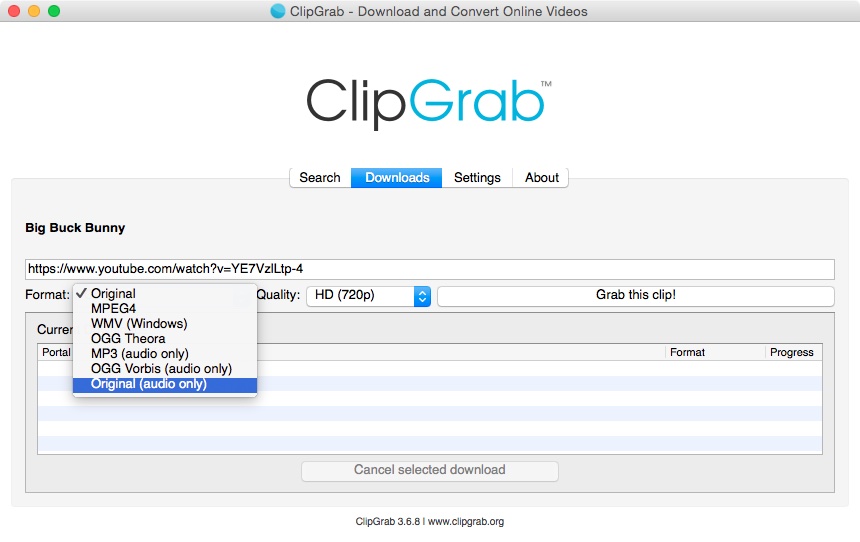 It's downloader and converter for YouTube, Vimeo, Facebook and other online video sites that converts downloaded videos to MPEG4, MP3 or other formats in one easy step. Here's how it works:
Download, install, and launch ClipGrab. It's available for macOS, Windows, and Linux.
Now you need to copy the web address of the video that you want to download. In order to do that, mark the link to the video in the address bar of your browser and hit Cmd+C on your Mac.
After copying the link, switch to the ClipGrab window. In the "Downloads" tab, insert the copied link into the input field. You can do this by hitting Cmd+V on a Mac. ClipGrab will now gather all necessary information about the video and you can proceed to the next step.
Before you start the download, you can now decide in which quality and which output format you want to save the video. Select the desired format from the "Format" select box and do the same for the video quality with the "Quality" select box.
All you have to do now is to click on the "Grab this clip!" button. You will be asked to select a file name and the download will start just after that.
<!— code from sekindo - Appleworld.today In-Article - outstream —>

<!— code from sekindo —>
ClipGrab works with YouTube, Vimeo, Dailymotion, Facebook, and perhaps other sites. Supported formats include MPEG4, MP3, WMV, OGG Vorbis, OGG Theora, or "Original format" (the latter is whatever format the video was initially stored in). Choose "Original format" and your download won't be converted at all. The output file will be, depending on the source, MPEG4, FLV or WebM.
And that's it. ClipGrab is easy to use and it's free. What's not to love?
Apple World Today Rating (out of 5 stars): ★★★★★