Along with the iVisor Pro 15, Moshi's $24.95 ClearGuard keyboard protector is a must-have (for me, anyway) accessory for my MacBook Pro with Touch. I'm often sipping a cup of coffee while I work on Apple World Today articles. I've yet to spill it on my Mac laptop, but, since I'm a klutz, it's always possible.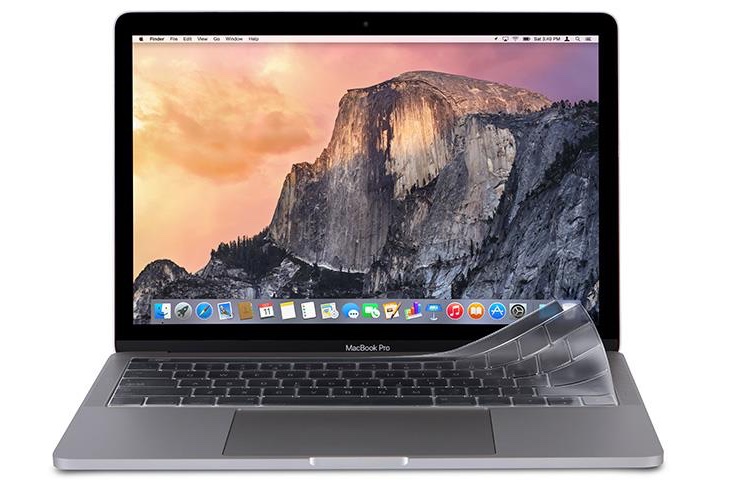 In such an event, the ClearGuard — which has been tweaked for MacBook Pros with Touch Bars — could be a life saver. Instead of silicone (of which some screen protectors are made), Moshi uses thermoplastic urethane that's about .1 mm thin, so it's much slimmer than silicone protectors. Installing the ClearGuard is easy — you remove the cover from protective cardboard and plastic packaging, remove two extremely thin blue plastic strips covering adhesive strips, and then use a piece of the cardboard packaging to press down on the adhesive.
The ClearGuard installed quickly and easily, and the keyboard still worked as it should. The keyboard protector's high transparency film allowed the backlit keys to clearly shine through.
The ClearGuard is washable. If I spill something on the keyboard I can just pull it up and literally run it under water to get it cleaned off. I'm not sure how that will affect the adhesive strips, but I'm hoping it won't.
Unless you're 100% certain, you'll never spill a drink or drop food crumbs on your MacBook Pro — or touch the keyboard with greasy or sticky fingers — you should give the ClearGuard a look.
Apple World Today Rating (Out Of 5 Stars): ★★★★★