China's smartphone production dipped under 70% for the first time in 2019, according to Counterpoint Research.
Why? "Recent dynamics within the supply chain and production ecosystem, which has been steadily shifting abroad as rising costs, trade tensions with the US, and a re-prioritization of other consumer markets make China less attractive as a production base," notes the research group. This has pressured vendors to consider other options, and India and Vietnam have come to the fore.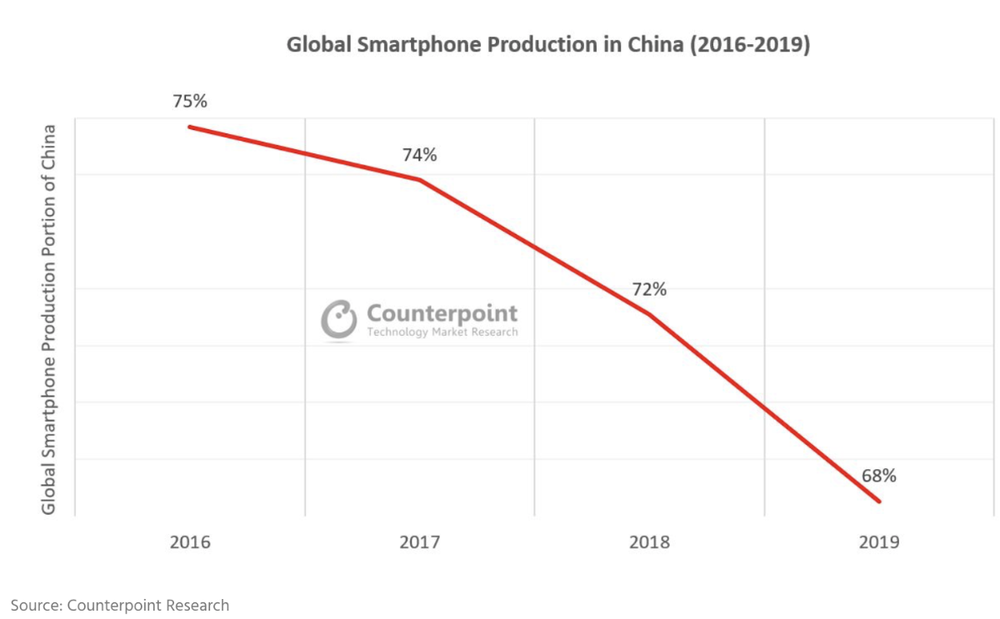 India in particular has gained, with its "Make in India"policy enticing many vendors to expand there. And with the country now the world's second largest smartphone market, manufacturers will be more easily swayed into moving production onto the sub-continent, according to Counterpoint Research.
Apple, which doesn't own production facilities but outsources production through firms such as Foxconn and Pegatron, is also diversifying outside of China, adds the research group. Starting with the iPhone SE in 2017, the 6S in 2018, and the X last year, the tech giant moved some production to India to take advantage of tariff benefits under the Make in India policy, and to better target the under-penetrated Indian market.
Counterpoint Research says Apple now plans to move up to 30% of current production outside China in response to protracted trade conflicts between China and the U.S.; India, Vietnam and other southeast Asian countries have been brought up as possible alternatives.