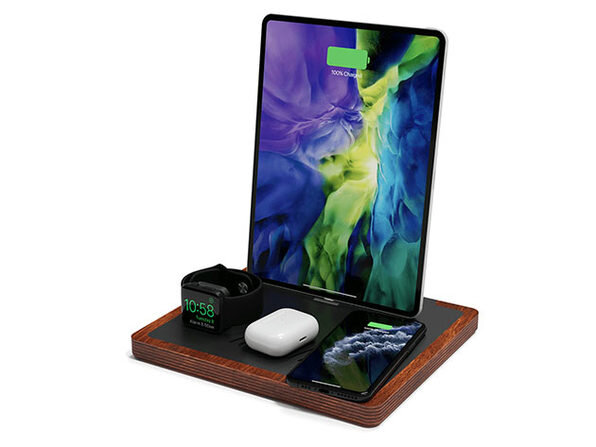 Finally, a charging station that lets you charge your iPhone, iPad, Apple Watch and AirPods simultaneously. The NYTSTAND QUAD Wireless Charging Station ($149,99) does it all, freeing up valuable desk space and eliminating cord tangles with one sleek design.
NYTSTND QUAD means 4 power outputs. This charging station lets you wirelessly charge 3 devices at once with the 5-coil full surface area and the built-in MFI-certified Apple Watch charger. An integrated Lightning port is available for charging another Apple device while using it. NYTSTND QUAD TRIO combines aesthetics and performance in a compact, elegant design. Made of premium Amish-sourced wood, this charger is designed to charge all your devices quickly. The natural wood guarantees the charging station stays intact and works without a hitch for years to come without you ever having to spend an extra dime on it!
5-coil full surface charging area for two Qi-compatible devices

Built-in MFI-certified Apple Watch charger

Integrated Lightning connector for charging an Apple device while using it

Foreign object detection (FOD) prevents overheating, overpressure, & overcurrent

Premium-class wood & high-quality designed to blend into any environment
All other Qi-compatible devices will work with NYTSTND chargers.