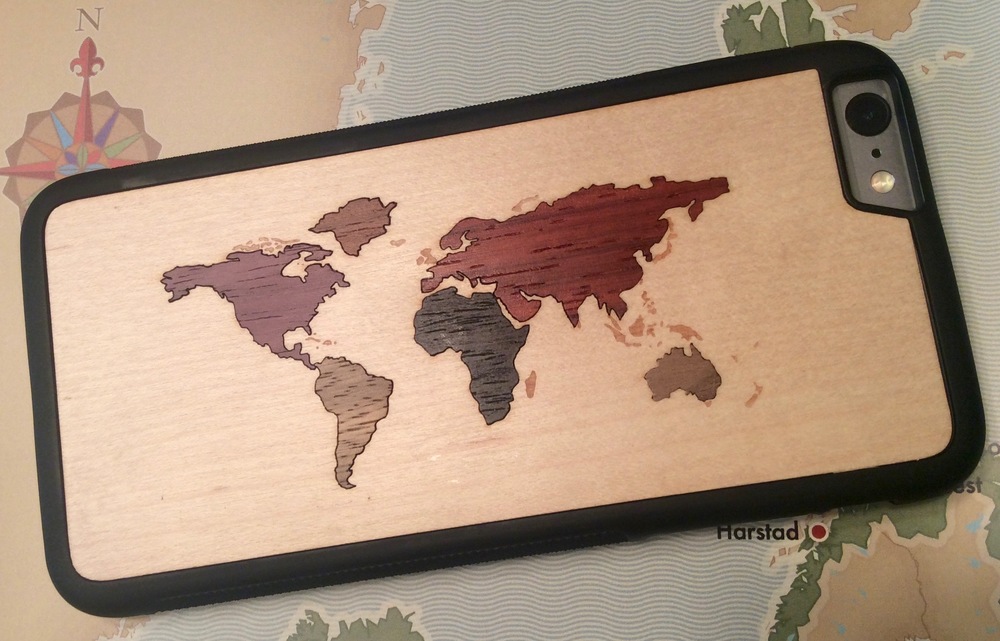 Wood cases for iPhones are nothing new, but traditionally they've had a few common issues — price and bulkiness. Carved's Traveler Case (starting at just $24) provides the luxury look of wood, the protection of a rubber bumper case, and more designs than you can imagine. Let's take a look!
Design
The concept of the Traveler Case is quite simple: take a common rubber bumper case for protection of an iPhone's sides and switches, then add a thin wood panel on the back for looks. Carved goes beyond just a plain wood back, although you can get those in a variety of beautiful woods like Black Limba, Purpleheart, Walnut, Cedar, and Cherry.
Carved's artisans have perfected the art of laser cutting thin wood, and they use that knowledge to make wood inlays. But they don't just use wood as a material — you'll also find cases that use mother-of-pearl, Paua Shell from New Zealand, and more. Don't like inlays? Perhaps you'd like an engraved pattern or a painting printed on the back.
The result is a huge variety of gorgeous cases — 67 by my count. The least expensive are $24, with more complex designs getting more expensive, topping out at $55 for a gorgeous "Turtle Inlay" case made with seashell and multiple woods. If you're not fond of any of the designs — and I challenge you to look at all 67 without finding at least one that you like — then you can design your own.
Function
The woodwork on the Carved Traveler Case is perfection. I decided to select a World Map Inlay ($29) for two simple reasons: I love to travel the world, and I wanted to see how the Carved artisans were able to handle the complex shapes of the continents.
The rubber bumper case that surrounds and protects the iPhone is nothing special; it's like a thousand others manufactured in China that you can buy inexpensively almost anywhere. But it's that back panel that gives the Traveler Case its beauty and style. I did find the case very easy to install and remove; that's surprisingly important to a reviewer, as we have to do that a lot and it's sometimes literally a pain to remove cases.
The sides of the rubber case also have a slight knurled finish, which makes it easy to hold onto the Traveler without having it slip out of your hand. That's a small design touch that is surprisingly useful.
In comparison with Pad & Quill's similar Timberline Case ($39.95), the Traveler Case is much easier to install and remove. The Traveler also protects the sides of the iPhone better than the Timberline, and comes in more than just three wood grain finishes. There's another issue with the Timberline: the wood panel on back goes around the camera cutout, and the thinnest section is easily broken (it fractured on mine in about a week). Not so with the Traveler Case, which smartly uses the rubber case all around the camera cutout.
Conclusion
Carved honestly surprised me with the vast variety of designs for the Traveler, the low price point, the quality of construction, and the ability to design my own case. If you're looking for a wood-accented case that won't break your budget and will fit your personal sense of style, look no further than the Carved Traveler Case.
Apple World Today Rating (out of 5 stars): ★★★★★