By Aaron Lee
If you use products from Neenah Paper — which manufactures — papers for premium writing, text, cover, digital, packaging and specialty needs, you'll want to check out its free Cabinet apps for Mac OS X and iOS devices. Available at the Mac App Store and Apple App Store respectively, they allow you to browse Neenan products to quickly find the right paper for your needs.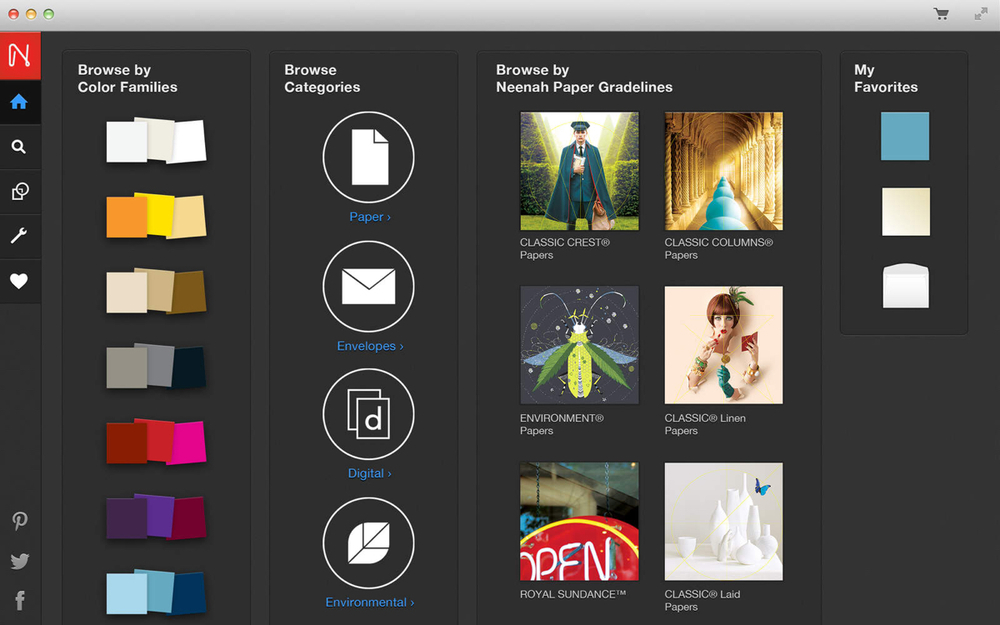 With Neenah Cabinet, you can browse, search, view and compare paper for print projects whenever or wherever they work — on a Mac, iPad, iPhone or Android device. And it automatically updates itself so it always has the most up-to-date info.
Cabinet users have access to papers and envelopes numbering in the tens of thousands within the Neenah family. A global search feature enables users to filter or search by product. Action buttons and contextual drop downs make for an intuitive user experience.
Cabinet is a virtual library of paper samples. Designers can view by paper grade, texture, color, weight, and more. Print demonstrations and swatchbooks are available with a single click from Cabinet through neenahpaper.com. Users can test design ideas and concepts by ordering Neenah's Personal Proof on the paper or papers of their choice to share with their clients or to imagine creative possibilities.
If you're not a Neenah Paper customer, the app will have no appeal. If you are, it's a fine time-saver — plus, it's free.
---
Keep your Mac running fast and troublefree with CleanMyMac 3