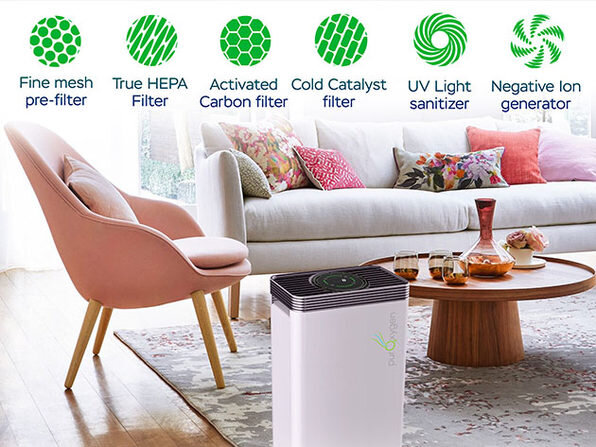 Whether it's full of smoke from wildfires, smog, pet dander, or allergens, the air we breathe can be harmful to our health. That's why we are offering 26% off the PURO²XYGEN P500 Air Purifier, a top-rated air purification system that removes up to 99.98% of all airborne contaminants.
Take care of your loved ones with the best of air purifiers — PURO²XYGEN. This device has highly sensitive sensors that detect contaminants in the air and start removing 99.98% of airborne contaminants, such as pet dander, mold, dust, viruses, bacteria, tackles smoke, controls odors, and helps against respiratory diseases. It uses an advanced 6-stage purification system that purifies any room up to 550sqf. With a sleek design, P500 works more than an air purifier. It has a soft LED night light that will add a touch of interior fashion to any room, office, or kitchen.
4.7/5 stars on Amazon: ★ ★ ★ ★ ★
6-Stage Core Purification System
Pre-filter: Effectively identifies & filters out dust, hair, dander, volatile organic compounds and decreases their floating in the air

HEPA filtration: Captures 99.97% of particles above 0.3 microns in size

Activated carbon filtration: Absorbs odors & chemical reactions

Cold catalyst filtration: Decomposes multiple harmful gases & serves for long due to the particularity of cold catalyst operation

Negative ion generator: Helps clean the air from dust, pollen, pet dander, mold spores, & other allergens

UV light sanitizer: Kills germs allergens, bacteria, mold, pollen & viruses
Don't let contaminants hamper your ability to breathe. Get a great deal on this air purifier today.