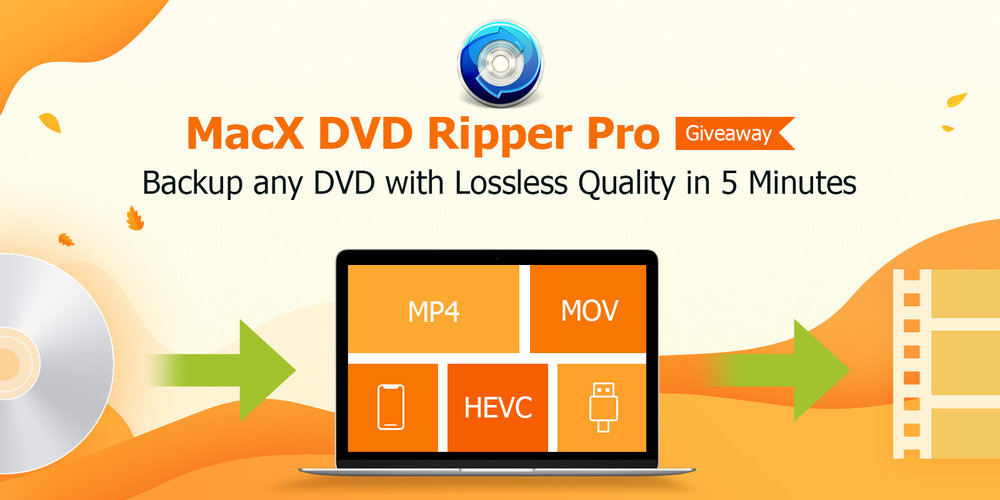 Do you still have a library of DVDs that haven't been ripped (digitized) so you can watch them on your iPhone, iPad or Mac? We have a way to fix that problem! Between now and December 10, you can download a free license key for MacX DVD Ripper Pro.
What is MacX DVD Ripper Pro and What Does Can It Do For Me?
MacX DVD Ripper Pro is the best DVD backup software we've found that digitizes DVDs — including those that are protected with Digital Rights Management — to MP4, H.264, HEVC and other common digital video formats so you can watch them on any device. Why is it the best? Keep reading…
MacX DVD Ripper Pro Takes Advantage of Level-3 Hardware Acceleration
For Macs that have Intel graphics supporting Quick Sync Video or a GeForce 600 graphics card or newer, that hardware is utilized by MacX DVD Ripper Pro to decode, process and encode video at lightning speed.
What does this mean for you? Incredible speed. Testing proves that MacX DVD Ripper Pro can copy a 2-hour DVD movie on a MacBook Pro in just 5 minutes, and complete the entire DVD conversion process in less than 10 minutes at 320 frames per second.
Preserving Original DVD Quality with the High Quality Engine
Using the High Quality Engine at the core of the app, MacX DVD Ripper Pro provides the best possible quality after copying and ripping. When backing up DVDs, the High Quality Engine is able to copy all DVD content — including video tracks, audio tracks and subtitles — from the discs without re-encoding, which means the video/audio quality is untouched.
During conversion of DVDs, the High Quality Engine calls upon sophisticated coding algorithms to reconstruct the DVD content without temporary and spatial redundancies, which results in more efficient encoding in a digital file format without losing information from the original content. What does that mean? The output video is about 98% of the quality of the original DVD content while taking less space.
MacX DVD Ripper Pro Supports Every DVD Format
Regardless of the kind of DVD being ripped, MacX DVD Ripper Pro can handle it. New DVDs of your favorite blockbuster movies can be backed up with ease, as well as DVDs of TV shows and exercise workouts.
Even DVDs encoded with the nefarious "99 title" copy protection and those that are unplayable on your DVD player can be ripped. The rare disc that doesn't use the Universal Disk Format is no challenge for MacX DVD Ripper Pro.
The Widest Variety of Output Formats
Once you've copied your DVD for backup purposes, you can convert it to almost any digital video format for playback on any device. Play back movies on your iPhone, iPad, Mac, Android device, PSP, or Amazon Kindle — MacX DVD Ripper Pro can handle it.
File conversion formats include MP4, H.264, MOV, M4V, MPEG, AVI, FLV, MP3 and even the new H.265/HEVC codec.
Sound Good So Far? Get Your Free License!
OK, if this sounds great to you so far, you can either find out more about MacX DVD Ripper Pro or take advantage of the free license giveaway during this Black Friday special offer. The free license is perfect for trying out MacX DVD Ripper Pro, although it does not provide for future upgrades. For a fully upgradeable license, you can take advantage of a 56% off discount on MacX DVD Ripper Pro or the companion VideoProc app or 70% off of the full MacX Media Management Suite.
Not Convinced? Check Out This Quick Review
I'm skeptical of claims made by software developers until I have a chance to try out an app and see for myself if it works as promised. With an Apple SuperDrive connected to my iMac and MacX DVD Ripper Pro installed, I tested the app by backing up a classic movie DVD. Before I did so, I took a look at an article titled "How to Copy a DVD on a Mac with Best Quality" that pointed out several different ripping methods.
The user interface of MacX DVD Ripper Pro is clean and intuitive, and there's a simple three- step process for getting started: 1 – clicking the DVD button to load the DVD, 2 – choosing a target file format, and 3 – clicking the Run button to start the conversion.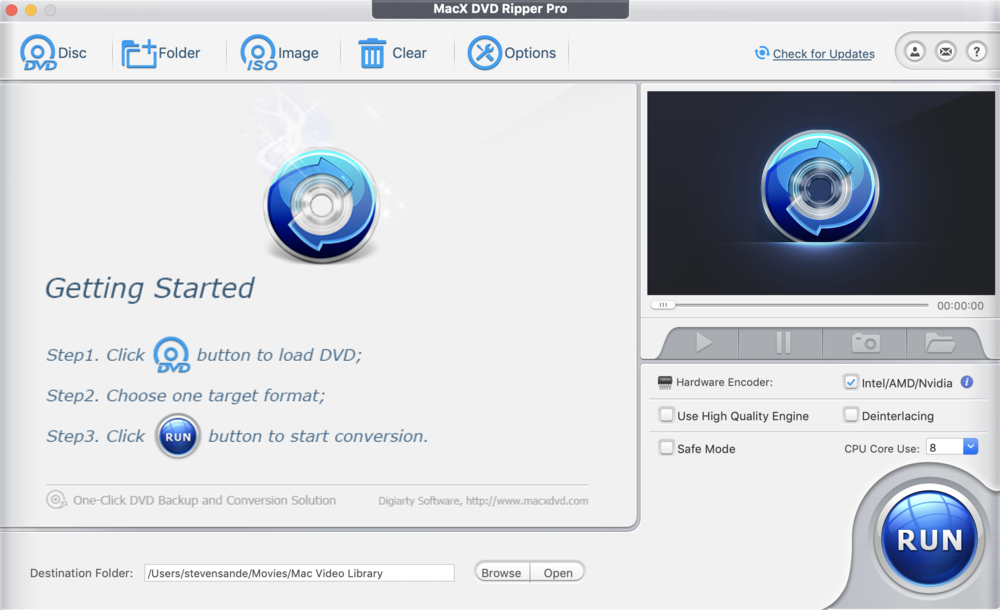 I loaded the disc into the SuperDrive, clicked the DVD button, and my movie was listed as the source disc. Clicking OK, I was asked to select an output file format from a selection of general profiles. I wish to watch this movie on my Apple TV, so I clicked Apple Device, "to Apple TV Video", and the app recommended the H264 file format. I accepted the recommendation with a click on "Done", then clicked the large "Run" button on the main screen (see image below).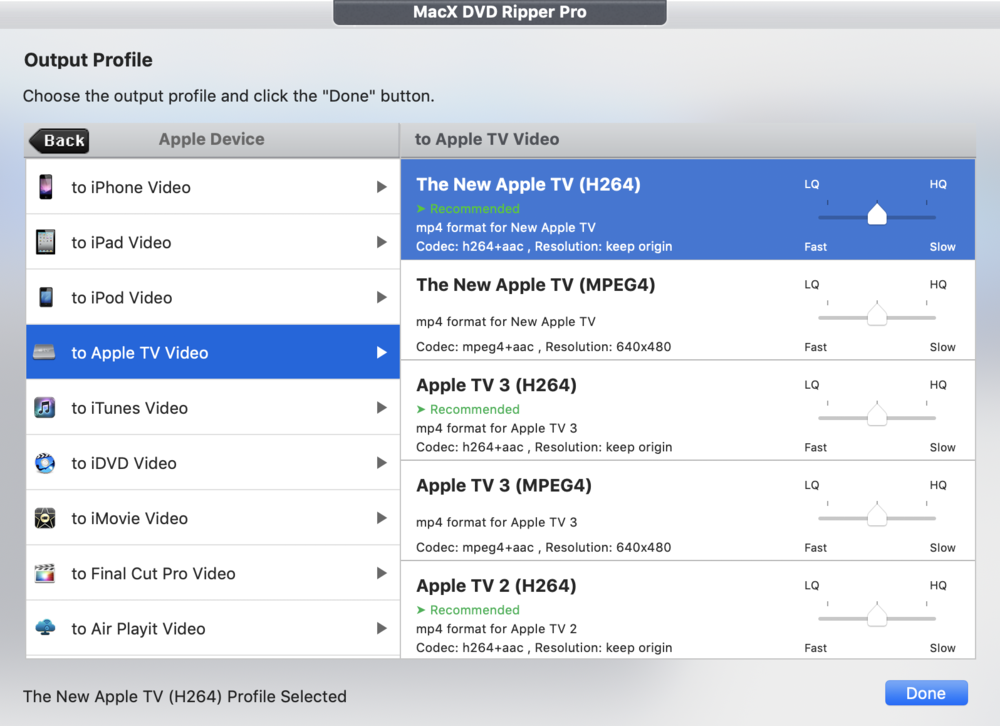 Soon, the output file folder appeared on the screen with the digital backup in it. The process took a bit longer that 5 – 10 minutes, but I had asked for the most difficult condition: high quality output with a small file size. The app was still able to rip a 3-hour movie (original size of 8.31GB) and do the compression down to a 1.78GB high quality file in 56 minutes. I wish I could say it was more difficult than that, but it wasn't!
Here are some common use cases for MacX DVD Ripper Pro:
Creating Copies for a Media Server
Have you thought about using one of the new Mac minis as a powerful media server? Add a 4 TB external drive and you can store up to 400 DVD movies with full original quality and 5.1 surround sound by backing up the movie in MPG or MKV format using MacX DVD Ripper Pro.
This also works well with home NAS solutions like the Synology DiskStation DS418play, which can store over 40TB of movies for playback.
Cloning DVDs for Burning
Perhaps you need to replace an original DVD that is beginning to show signs of wear and tear. Clone the DVD to an ISO image, and a 1 to 1 image is quickly created by MacX DVD Ripper Pro that can be used with any DVD burner. The process is as simple as clicking on the ISO Image button in the app, selecting the DVD, and clicking Run (see image below).
Backing Up DVDs to a Mac Hard Drive and Free Up Hard Disk Space
This is a common use case for MacX DVD Ripper Pro, and it's easy to rip the DVD to an MP4 or MOV format. While this involves some data compression to turn a 4.8GB DVD movie into an MP4 file that's smaller than 1GB, the High Quality Engine ensures that the backup has almost no loss of visual and sound quality at all.
You can free up even more Mac hard disk space by ripping DVDs to the HEVC format. It's a new video compression standard supported on macOS that reduces file sizes by 50% compared to H.264 without any loss of image quality.
<!— code from sekindo - Appleworld.today In-Article - outstream —>

<!— code from sekindo —>
Get the Best Video Quality With These Simple Tips
Tip 1 – When you've selected a video format, be sure to move the slider bar in MacX DVD Ripper Pro to HQ (High Quality) to get the best possible video quality. This does slow down the compression process a bit, but ensures that your video is indistinguishable from the original.
Tip 2 – Tweak settings to get the best DVD quality on mobile devices. This means using the H. 264 codec, an MP4 file format, and keeping the original resolution (720p on most DVDs). There's usually no need to upscale the DVD resolution to 1080p or 2160p (4K), since the quality of the image won't be improved and the file size becomes much larger. In addition, keep the frame rate unchanged, and consider changing to a higher bitrate of 1000k to 1400k for better quality.
What Else Can MacX DVD Ripper Do for Me?
There's even more that MacX DVD Ripper can do. One good example is ripping foreign language DVDs that don't have subtitles for your language. Once you've ripped the DVD, MacX DVD Ripper helps you to add external subtitle files later.
One fun thing you can do is to merge a number of separate movie titles into one big movie. Imagine having all of a series of movies — "Lord of the Rings", "Fast and Furious", and more — in one file. That's perfect for a binge-watching weekend!
MacX DVD Ripper Pro also gives you the ability to trim video clips and segments if you don't need an entire DVD, and you have the power to adjust the file format and quality to your needs.
What Are You Waiting For?
Remember, you can get a free license of MacX DVD Ripper Pro to try out this powerful Mac app. This is the perfect opportunity to convert all of those DVDs that are collecting dust on your shelves to a digital format you can watch on any device.