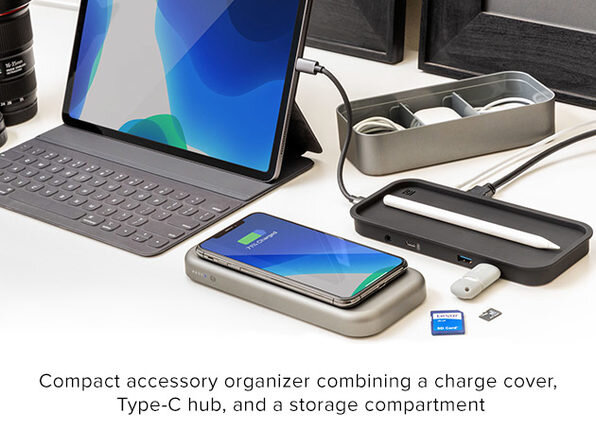 Looking for a compact and powerful way to keep all of your USB-C devices connected and charged, charge up an iPhone, have a place to store small accessories, and even have a 5,000mAh portable charger — all in one small box? That's the BentoStack PowerHub 5000, and this versatile accessory is available for only $99.99 in the Apple World Today Deals Shop.
Less is more. The BentoStack PowerHub 5000 is a compact accessory organizer combining a charge cover, Type-C hub, and a storage compartment, all in one minimalistic stackable case.
Charge cover. Built-in 5,000mAh power bank w/ certified Qi wireless charging & USB-A port

Type-C hub with 8 ports. USB-C PD, USB-C 3.0, USB-A 3.0, SD, MicroSD, HDMI 4K, & 3.5mm audio plus magnetic Apple Pencil holder on top

Storage compartment. 3 custom storage spaces for smaller accessories
All of these components are stacked neatly together taking up a minimal workspace and a premium silicone strap keeps them secure when you're on the go.
Specs
Color: space grey

Finish: soft touch matte

Materials: lithium battery, PC hub

Dimensions: 2.6″H x 7.5″L x 3.3″W

Weight: 1.1 lbs

Power bank

5,000mAh

Certified Qi wireless

USB-A port

Type-C hub

1x USB-C PD

1x USB-C 3.0

2x USB-A 3.0

1x SD

1x HDMI 4K

1x 3.5mm audio

1x magnetic holder

Storage compartment: 2 adjustable dividers

Space-saving

Wide compatibility

Manufacturer's 1-year warranty
Our sale pricing is 37% off the regular retail price, and you might not be able to pick up one of these powerful devices at this price again.