Belkin has unveiled the Thunderbolt 3 Express Dock HD. It plugs into devices with a Thunderbolt 3 (USB-C) port such as — you know it — the new MacBook Pros.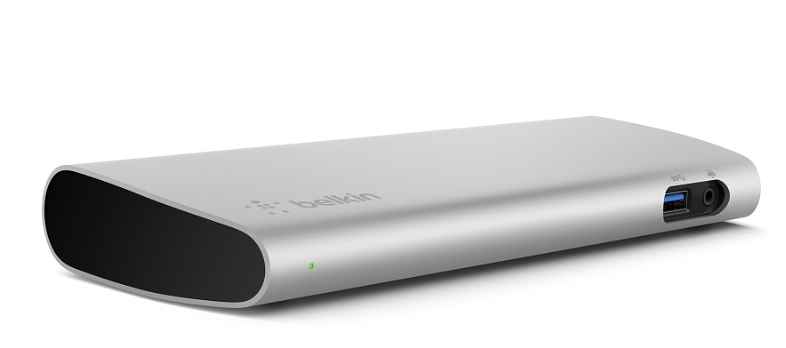 With 40 Gbps data transfer rates, dual 4K video support and 85 Watts of power delivery, the Thunderbolt 3 Express Dock HD is a "complete single-cable docking solution providing connectivity and power to your notebook," according to Steve Malony, vice president and general manager, Belkin. Features include:
Dual 4K video or single 5K output and 85W of power delivery powering your computer through a 0.5m Thunderbolt 3 (USB-C) 40Gbps cable;
The ability to daisy-chain up to five Thunderbolt devices from the dock;Two Thunderbolt 3 (USB-C) ports;
Three USB-A 3.0 ports (1.5A charging each);
One DisplayPort;
One Audio In/Out port; one Audio Out port;
One Gigabit Ethernet port;
An included 170W power adapter provides enough power to support attached peripherals while delivering up to 85W of power to your computer through included Thunderbolt 3 cable.
The Thunderbolt 3 Express Dock HD and USB-C to HDMI Adapter are "coming soon" to Belkin.com, Apple.com and at Apple stores. Pricing hasn't been announced.