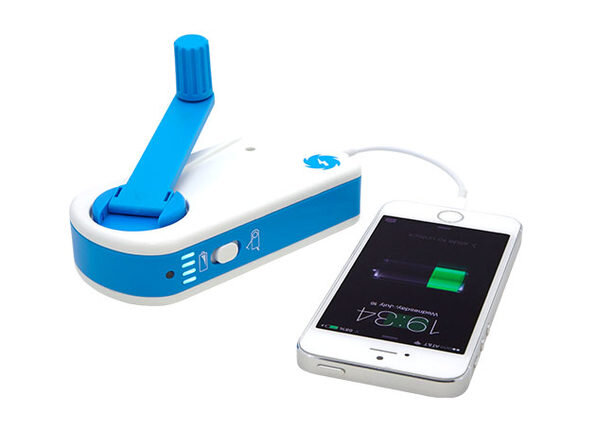 Most of the many iPhone and iPad chargers that we sell here in the AWT Deals Shop have one flaw — they need to be plugged into a wall socket to be charged themselves. What if the power is out everywhere? The innovative SOScharger ($29.99) features a geared hand crank and generator that can charge up your iPhone or Android phone even when power is out for days.
It's always super frustrating when your phone dies, but in an emergency situation, a dead phone can mean isolation, darkness and disorientation. With an SOScharger in your pocket, you can literally power your phone indefinitely. In addition to its internal battery, which has a 2,300-mAh capacity (plenty to charge most phones 100-150%), the SOScharger also features an onboard charge-creating handle that you can turn to easily generate unlimited additional power. The SOScharger has a USB output which makes it compatible with nearly any phone. So no matter if you're an Apple fanatic or an Android maniac, when power is scarce, you'll always have a source.
Rechargeable 2,300-mAh battery will charge most phones 100-150%

On-board generator lets you generate your own power, wherever you are

Ergonomic generator handle makes it a snap to crank out power

Compact size allows you to easily slip the SOScharger into your pocket, purse or backpack

Universally compatible USB output means it will work with almost any phone
Remember, it's still hurricane season! Don't be left unconnected when the lights go out — get an SOScharger today.