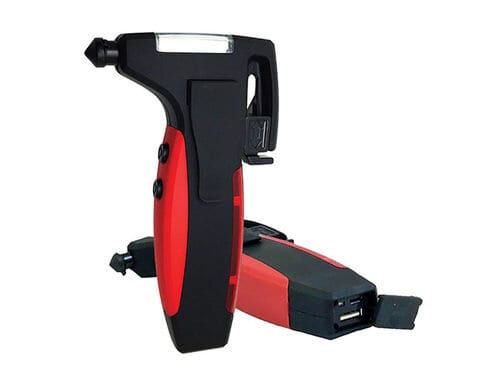 Automobile emergencies can happen anywhere, anytime, anyplace. This 5-in-1 Emergency Car Tool and Power Bank ($19.99) can save your life with its built-in window breaking tool, seatbelt cutter, LED flashlight, red flashing SOS light, and 2200mAh power bank. Stay prepared and get this tool for your car today.
Emergencies happen on-the-road and it's better to be prepared and safe than not at all. This Emergency Car Tool is a 5-in-1 solution for most automotive needs. It features a LED flashlight, red S.OS. light, emergency seatbelt cutter, glass breaker, and a portable power bank with 2,200mAh battery capacity. It also comes with a mini USB cable so you can charge your mobile device on the go. Go on the road with no worries with all 5 tools in one device.
See your stuff clearer w/ the LED light

Signal for help w/ the red flashing SOS light

Cut through a jammed seatbelt w/ the integrated cutter blade

Break your side window using the steel tip

Charge your device on the go w/ the 2,200 power bank
The price is right — get the Emergency Car Tool in anticipation of summer trips!