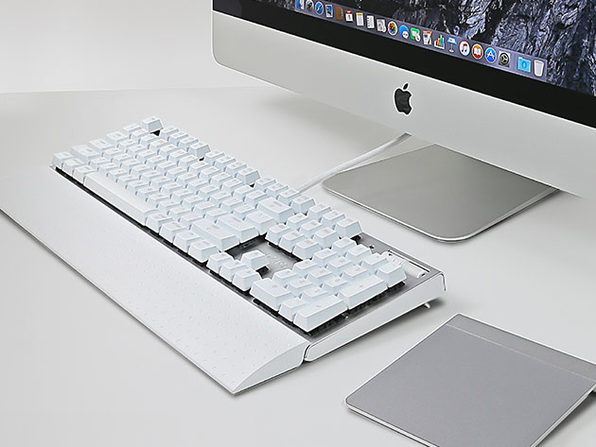 Apple's Bluetooth keyboards are useful in those situations where you're just running a single version of the operating system on a Mac, but you can run into some oddball situations if you load up a beta OS or are running virtual machines. That's where a USB keyboard can come in handy, as it's immediately recognized by any version of the OS. Get one that's made for the Mac — the Azio MK Mac USB Keyboard ($79) is perfect for those situations where you need a wired keyboard.
This Azio MK MAC USB Keyboard is a backlit mechanical keyboard designed exclusively for Mac. The bead-blasted aluminum finish exudes elegance while underlining Apple's minimalist aesthetic. With its true Mac format, it implements function keys for quick access to various Mac features such as the Launchpad, Dashboard, and Exposé. Experience precise travel distance and tactile feedback with every key and get rid of conflicts with simultaneous key presses. MK MAC combines convenience and ease of use with the dedicated onboard volume adjustment wheel and the mute button, giving you the command of sound whenever you need it.
Type w/ confidence & accuracy thanks to the mechanical keys' precise travel distance and tactile feedback

Get access to Mac features w/ the function keys

Complement your Mac w/ MK MAC's bead-blasted finish

Intuitively roll the volume adjustment wheel to give you the command sound whenever you need it

Type w/ ease & comfort using the snap-on palm rest
Get the peace of mind of knowing that your keyboard never needs charging and that it will always connect. And while you're at it, take a look at this deal on the $15 Azio GM2400 Gaming Mouse.