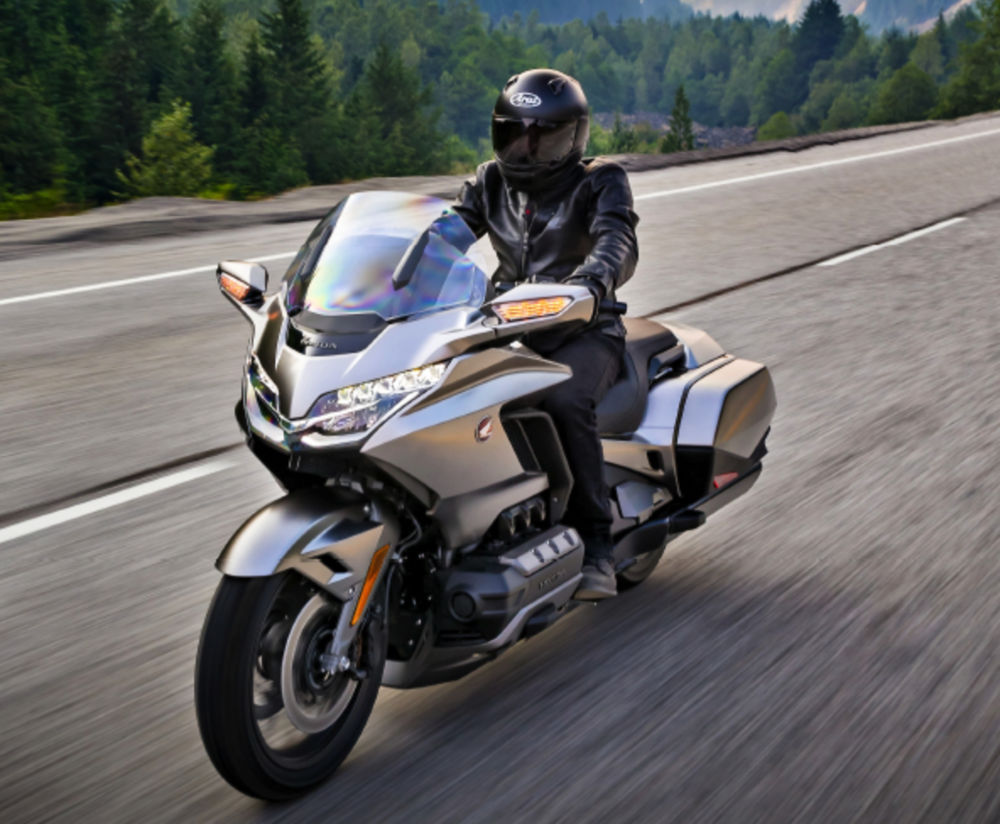 The leaves have all fallen from the trees at Apple World Today headquarters in Colorado, and Steve's been spending too much time getting them rounded up. But he did have enough time today to gather some stories for another episode of the AWT News Update podcast:
The 2018 Honda GoldWing touring motorcycle (at right) will come with an option for Apple CarPlay integration
watchOS 4.1 is getting close to release, and the golden master release notes were leaked today, showing support for GymKit, Apple Music and iCloud Music Library streaming, and more…
Huge US retailer Walmart is planning a huge deployment of Macs that could reach 100,000 employees over the next year
The text version of the podcast can be read below. To listen to the podcast here, click the play button on the player below. Apple News readers need to visit Apple World Today in order to listen to the podcast.

Text Version
This is Steve Sande for Apple World Today, and you're listening to the AWT News Update podcast for Wednesday, October 25th, 2017. If any listener in the Denver area wants to come over and help me bag leaves in my back yard, let me know… that's what I was just doing for three and a half hours away from Apple World Today… 
Well, at least there was one piece of news that perhaps I can use to get my wife to buy me a Honda GoldWing touring bike. The 2018 model was announced today and it's totally redesigned. Now you're probably wondering what this has to do with Apple, and I'll tell you — the new motorcycle has an option for Apple CarPlay integration. I think that counts towards getting one, don't you? And of course, she can ride on the back of the bike!
The watchOS 4.1 golden master release notes were leaked this afternoon by developer Guilherme Rambo, who is such a good leaker that it's surprising that Apple lets him be in the developer program anymore. Anyway, he's confirmed all of the bug fixes and feature updates that are coming with watchOS 4.1, with the notes confirming that GymKit will be supported in the new version. That's the API that Apple developed for the Watch that allows it to sync fitness data with GymKit-enabled treadmills, ellipticals, stair steppers and indoor bikes. The idea is that syncing the exercise machines and the watch will allow for more accurate distance, pace, and energy burn metrics. The Control Center will be updated to allow the Apple Watch Series 3 with cellular to disconnect from a Wi-Fi network. Apple Music and iCloud Music Library can now be used to stream music to the Apple Watch Series 3, which makes me very happy as I have all of my old ripped CDs in iCloud Music Library. The update will also be making it possible to listen to live radio on Beats 1, custom stations, and expert-curated stations with a new Radio app on the Series 3. A number of other small bugs are also being repaired. Given that the golden master is getting near, we can probably expect the update as soon as next week, prior to the release of the iPhone X.
One note from the Jamf Nation User Conference being held in Minneapolis, Minnesota and attended by Marty and Ruby Edwards from Apple World Today is quite amazing — huge retailer Walmart is in the planning stages of rolling out an employee Mac choice program that it expects to save money in the future and enhance the productivity of its employees. At the present time, Walmart has about 7,000 Mac users, and they've discovered a significant reduction in support costs for those devices compared to PCs. Walmart expects to deploy as many as 100,000 Macs over the next year, and Walmart Tech Expert Miles Leacy says that Mac could very well become the default choice for new employees given the savings in Total Cost of Ownership. Macs, of course, tend to cost more than comparable Windows PCs, but the TCO is lower due to decreased support costs, less expensive licensing fees, higher user satisfaction and higher residual value when reselling used equipment at the end of its useful life.
That's all for today; I'll be back tomorrow afternoon with another edition of the AWT News Update.