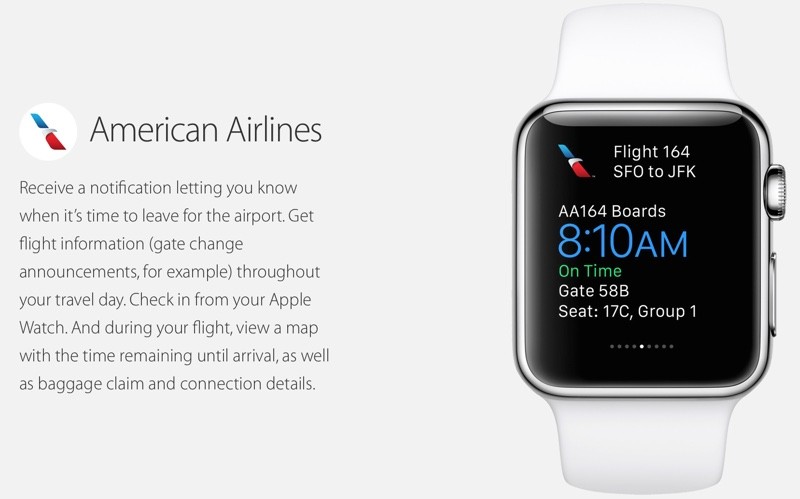 A few tidbits of Apple-related news for your Thursday:
A number of airlines are preparing Apple Watch apps to provide owners of the new device with pre and post flight information as well as flight status during their trips. 
An update is available for iPhoto, perparing the way for migration of iPhoto libraries to the new Photos app when it launches later this spring.
Antivirus and antimalware apps appear to be disappearing from the iOS App Store, and that's a good thing.
Apple replaced AT&T as part of the Dow Jones Industrial Average today.
Be sure to subscribe to the podcast, and if you like it, please leave a review on iTunes.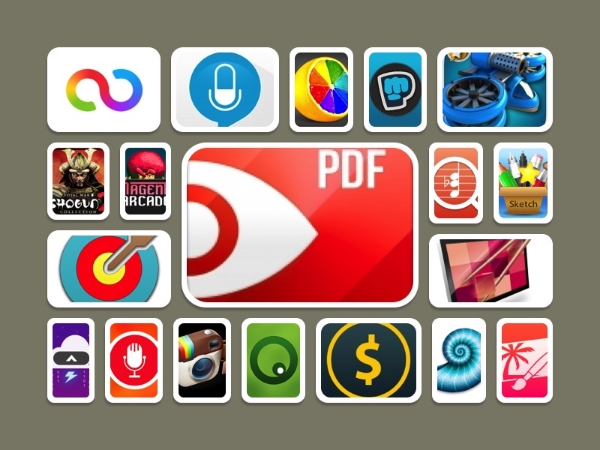 Here are some of the best free apps, app updates and new apps that have landed in the App Store recently. Today's notable apps include a 50% discount on PDF Expert 5, the exciting new CARROT Weather, and a feature-filled update to Pixelmator. All app prices are USD and subject to change. Some deals may expire quickly, so grab them while you can.
iOS Apps Now Free
The PewDiePie Soundboard [Now free, down from $0.99] Here it is – the FIRST and ORIGINAL PewDiePie Soundboard for iOS with more than 250+ PewDiePie-qoutes!
Game About Flight 2 [Now free, down from $0.99] Here comes the Game about Planes 2 with a great many upgrades from the previous version
Sketch Painter – Painting, Drawing, Sketching Illustrations on Unlimited Size Canvas with free Paint Brush [Now free, down from $0.99] Sketch Painter is the intuitive drawing tool with resolution independent vector illustration that allows you to create stunning sketches with very little effort.
Speech Recogniser: Convert your voice to text with this dictation app. [Now free, down from $2.99] With this revolutionary app, you won't need to type anything any more. You just speak and your speech is instantly converted into text.
Owe Ya [Now free, down from $0.99] Keeps a Log of Money or Items, Loaned or Borrowed and from Whom.
ColorStrokes [Now free, down from $1.99] iPhone version of the most popular Color Splash app for Mac.
iOS Apps On Sale
PDF Expert 5 – Fill forms, annotate PDFs, sign documents [On sale for $4.99, down from $9.99] PDF Expert 5 is a must-have app for anyone who reads, annotates or edits PDF documents on iPad or iPhone.
Reverse Chord Finder Pro – Inverse Chord Dictionary for Songwriters, Musicians, Composers and Music Students [On sale for $1.99, down from $4.99] This app answers the question: "What chord am I playing?"
OptimizeMe – Lifelogging and Quantified Self Improvement App Supporting M7 [On sale for $1.99, down from $3.99] OptimizeMe helps you record your life to improve it.
Money Pro – EASY! Bills, Budgets and Accounts w/ Sync [On sale for $0.99, down from $4.99] Manage money like a pro. Money Pro is the next generation of Money app
Speak & Translate - Live Voice and Text Translator with Speech and Dictionary [On sale for $9.99, down from $14.99] Speak & Translate is an indispensable voice and text translator that allows to communicate effectively in any corner of the globe.
Discounted Mac Apps
Total War: SHOGUN 2 Collection [On sale for $24.99, down from $49.99] As leader of one of twelve competing clans, use political ambition, military brilliance and ruthless cunning to unify 16th century Japan under one undisputed shogun: you.
InstaReel for Instagram [Now free, down from $2.99] InstaReel is a beautifully crafted app that makes it easy to browse your Instagram feed, like/comment on images/videos and discover amazing new content through its powerful search.
ColorSnapper [Now free, down from $0.99] ColorSnapper is an easy-to-use tool for quickly finding out the color of any pixel.
New and Notable Apps
CARROT Weather – Talking Forecast Robot [$2.99] CARROT Weather is an eerily accurate weather app that delivers hilariously twisted forecasts.
Magenta Arcade [$1.99]MAGENTA ARCADE is a finger-based top-down shooter brought to you by Long Hat House.
OneFocus – Block Distractions & Overcome Procrastination [$9.99] OneFocus lets you block distracting apps to overcome procrastination, stay focused, and achieve more. It's ideal for studying, writing, and working from home.
Updates you don't want to miss
DEVONthink [Free] Information overload — Swamped by paper, emails, notes? Meet DEVONthink — designed to manage and organize all those disparate pieces of information that are so important to your work or studies. Version 2.8.4 brings the following changes:
Adds the ability to import files and folders from the Finder into the database and move the originals to the trash by holding the ⌘Command key while dragging.
Adds new date-related smart group conditions.
Adds full suport for ".webhistory" and ".webbookmark" bookmark files.
Adds ".asciidoc" to the list of known plain text extensions.
Adds the alternate menu item "Help > Report Bug" (press the ⌥Option key to show).
Pixelmator [$9.99] Pixelmator for iPad is a powerful image editor that gives everything you need to create, edit, and enhance your images. Version 1.1 brings the following changes:
Unique watercolor painting technology allows creating real-life-looking watercolor paintings
12 new beautiful artist-designed watercolor brushes
The new Color Picker now features the history of your previously used colors
Use the new Color Grid in the new Color Picker to pick colors even more precisely
Optimized Painting Engine gives you up to 2 times faster painting performance
Now you can open 16-bit RGB, CMYK and Grayscale Photoshop image previews, as well as Photoshop images containing layer masks
Insert an image as a new layer right from your iCloud Drive
Use the Lock Alpha feature to paint on the non-transparent parts of a layer
Preview of your brush while adjusting its settings
Open and edit RAW image previews
Full support for Adonit Jot Script, Jot Touch 4, Jot Touch with Pixelpoint styluses
Enhanced stylus pressure sensitivity with all styluses